Troy Schools News brief
1/17/2018, 11:41 a.m.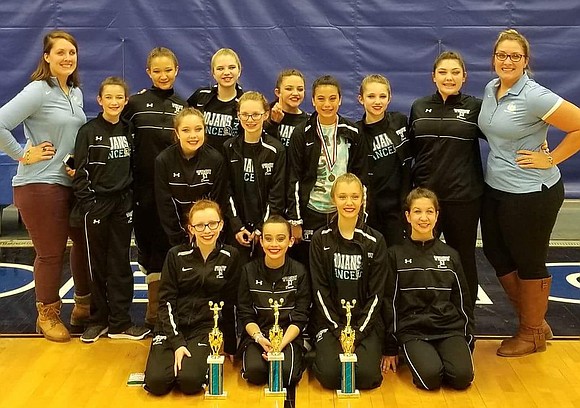 Troy Dance Team qualifies for state
The Troy Middle School Dance Team recently qualified for IDTA state competition.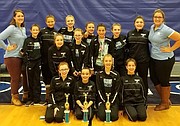 Back from left: Assistant Coach Alyse Plattos, Cailey Koerner, Maddy Slinkard, Maddie Young, Alyssa Hoffman,
Second row: Rylee Mielke, Brianna Reese, Sammy Biancorosso, Alaina Berk, Gianna Ronchetti, Head Coach Jennifer Cryder
Bottom Row: Annabel Bernicky, Emmy Rosado, Paige Albert, Maria Grimanis
Not pictured: Team Manager Lizzy Martinez
Troy School students make dog toys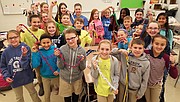 William B. Orenic Intermediate School's L.E.A.D. Club recently made dog tug toys to donate to Hopeful Tails Animal Rescue in Joliet. The club is a community service group at the Troy Community School District 30-C school.
Other projects in which the club has participated this year include Trick or Canning for St. John Lutheran Church Food Pantry, making fleece blankets for children at Guardian Angel Community Services, making cards for children at Ann and Robert H. Lurie Children's Hospital and volunteering with Wreaths Across America at the Abraham Lincoln National Cemetery.

Troy Symphonic Band chosen to play at music educators' conference
The Troy Middle School Symphonic Band has been selected to perform for state elementary, high school and university music teachers at the Illinois Music Education Conference in Peoria this month.
The Illinois Music Educators Association, composed of more than 3,500 members, sponsors the conference, which offers break-out sessions for continuing education, research presentations, networking and performances.
The Troy conductors are William Goetz and Jennifer Carlton.
"This is a big honor, and it will take a lot of preparation," Goetz said. "Over the last few years, only one or two middle school bands have been selected to perform at this event. I'm very proud that we've been selected, and I can't wait to show off the Troy Symphonic Band to music educators from around the state."
School bands that perform at the conference are selected by the strength of their submitted recordings and documented sustained musical excellence over time.
The ILMEA's website states, "The ILMEA Board of Directors endeavors to create a conference program that features musical performances and demonstrations of the highest caliber, providing conference attendees with exposure to a wide variety of performances by various types of music ensembles."
The Troy Middle School Symphonic Band will perform at the 2018 Illinois Music Educators Conference in Peoria on Jan. 27.