Bolingbrook mayor gets emotional during State of the Village
Megann Horstead | 1/24/2018, 9:15 a.m.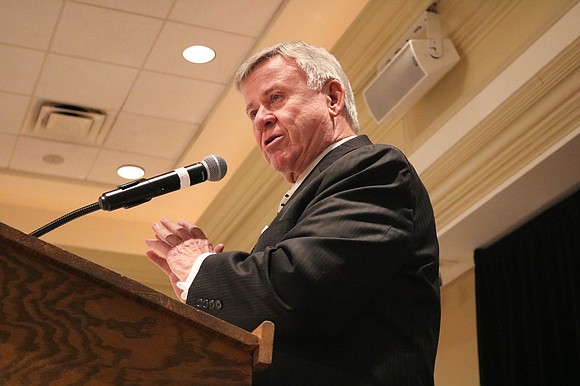 "[State lawmakers] can't get anything done, and it's not just the Democrats, it's the Democrats and Republicans," Claar said. "You see the same thing in Washington, [D.C.]. I'm telling you they'll fight over anything, and it's just unfortunate they can't just sit down and talk and move forward on some of these topics that are critical."
Claar said he is very proud of the local municipal government services provided in the Village of Bolingbrook.
Government budgets at all levels are designed to include funding for employee salaries and benefits.
"Candidly speaking, [this is true] especially in the State of Illinois," Claar said. "We have to give employees raises every year. I've had people say, 'You can't give them raises.' If you don't give a raise, they'll bring in an arbitrator who will tell you what the raises will be. I'm not knocking it, that's the system."
Claar wanted it to be clear that his main point of bringing this matter up is not to say that raises aren't warranted, it is to make people aware that more money will be necessary to pay public employees.
"To fund these things, we either raise property taxes, the gas tax, hotel tax or some kind of new tax," he said. "We don't print money. There are those that say, 'Oh, cut the fat.'"
The Village of Bolingbrook has combined police and fire, converted LED lights to save money and eliminated the travel budget for staff and elected officials.
"The reality is, it costs money, and we do as best we can," he said.