State's Attorney honors former Joliet police captain during blood drive
1/24/2018, 9:29 a.m.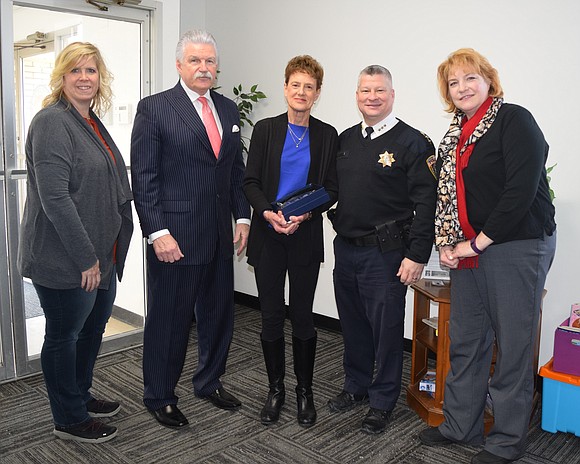 JOLIET – Will County State's Attorney James Glasgow joined Heartland Blood Centers recently to honor the late Jim Stewart, a dedicated Heartland donor who led his Investigations Division for more than eight years, for his lifetime of giving blood.
State's Attorney Glasgow was joined by Heartland representative Julie Kinsella to present Stewart's widow, Amy Stewart, with a plaque that honors the extraordinary number of blood donations he made over the past 30 years.
Stewart, who was also a retired Joliet Police Captain, died in early November after an extended illness. However, before he became sick, this beloved local law enforcement officer followed a strict blood-donation regimen, scheduling as many as six appointments per year since 1987. During that period, Stewart made 160 donations and gave an astonishing 20 gallons of blood. His donations over the years provided life-saving transfusions to 480 patients who had been in collisions, suffered serious injuries, or undergone medical procedures.
During the presentation at the Taylor Babec Community Blood Drive, which was conducted at the Will County Children's Advocacy Center on Jan. 16, State's Attorney Glasgow praised his longtime friend and former lead investigator. He noted that while they often had spirited but friendly disagreements on everything from sports to politics, Stewart will always be remembered for a lifetime of hard work in the service of others in his community.
"Jim Stewart was a remarkably effective police officer who got the job done out on the streets when he was at the Joliet Police Department. He then put his lifetime of street experience to work on behalf of the prosecutors in my office by making their cases rock solid," said State's Attorney Glasgow. "But one of his greatest legacies might be the countless people he impacted by quietly and regularly giving blood the minute he was eligible to make another donation. We may never know for certain how many people are alive today because of his dedication."
Joliet mother Jennifer Babec, who coordinates blood drives on behalf of Heartland, noted that Jim Stewart's blood could have been used in one of the 22 transfusions that renewed her own daughter's energy and spirits during her successful battle against lymphoma when she was a little girl.
And Amy Stewart noted that her husband, in his role as a police officer, was always an advocate for victims. That's why he understood the importance of donating blood on a regular basis, she said.
When he was struggling with cancer near the end of his own life, Stewart expressed disappointment he could no longer donate. In the end, the police officer who gave so much of himself over the years relied on blood donations from others during his own medical treatments.