Troy Schools new briefs
1/31/2018, 11:26 a.m.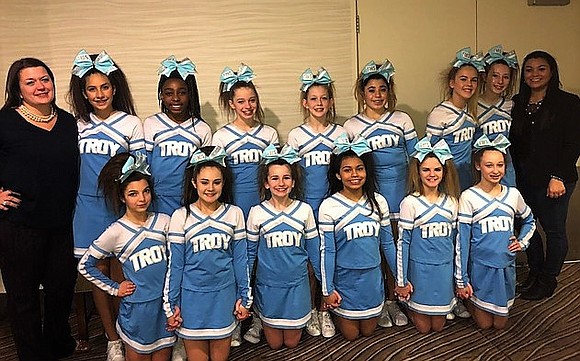 Troy Cronin 4th graders host fundraiser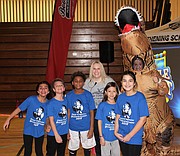 Photo: Troy Cronin Elementary School, including these 4th grade students, recently ran a fundraising Boosterthon Fun Run in their gymnasium to raise money to bring an author to the school. Here, from left, are Kassandra Pantoja, Ivan Casas, Maurice Shelton, Jr., Troy Cronin Elementary School Principal Jill Howard, Karen Barrios, Natalie Clemente and a Boosterthon T. rex team member.
Troy Varsity Cheer Team 4th best in state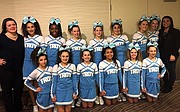 Photo: The Troy Varsity Cheer Team placed 4th at state in January, after a shining season. Members of the team are, top row from left: Head Coach Erin Locke, Sofia Mejia, Kamariah Ervins, Baylee Foreman, Kylie Jackson, Susie Grassano, Tessa Benson, Veronica Bozarth and Assistant Coach Alicia Headrick.
Front row: Sophia Hansen, Alivia Medina, Haley Shires, Vivian Franco, Ava Browning and Grace Kamper
Heritage Trail 4th grade students visit with judge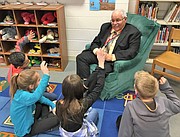 Photo: Troy Heritage Trail Elementary School 4th grade students were recently visited by Honorable Judge David Garcia, Associate Judge for the Will County 12th Judicial Circuit Court. The 4th grade class had just completed a unit on government and were interested in what it means and what it takes to be a judge.
Pictured, from left, are students Xavier Garcia, Maggie Prack, Madelyn Allison and Eli Merda with Garcia. Troy instructional coach Anne Kasa was the facilitator for the event.