Wine of the Week: Chateau Prierre – Lichine Margaux – 2015 -$48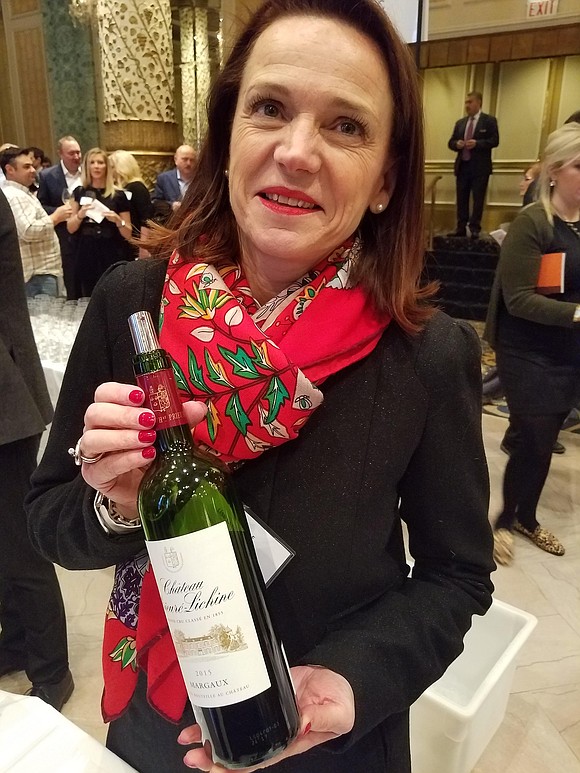 The Union Des Grand Crus De Bordeaux presented a spectacular collection of wines from this French capital of winemaking during a national tour that included Chicago, New York, Denver and San Francisco. Representatives from
the region's 133 chateaux were on hand to personally pour their unique
wines, all of which represent their expertise and passion as winemakers.
The 2015 vintage Bordeaux wines are exceptional for their vibrancy and
complexity. All of the famous appellations were represented:
Pessac-Leognan, Graves, Saint-million, Pomerol, Listrac-Medoc,
Moulis-En-Medoc, Haut-Medoc, Medoc, Margaux, Saint-Julien, Pauillac, Saint-Estephe and the golden sweet wines of Sauternes Ou-Barsac.
The magnificent Grand Ballroom of the historic Drake Hotel on Chicago's
Gold Coast, with its magnificent lakeside views, was the setting for the
Grand Tasting.
Among the outstanding wines was this week's wine of the
week, Chateau Prierre-Lichine Margaux-2015 ($48), presented by winemaker
and owner Lise Latrille. At just under $50, this wine is priced in the
comfortable mid-range of this year's Bordeaux selection and is an outstanding value, with deep character and excellent craftsmanship.
The winery itself has an illustrious history. Founded by monks in the 12th
century, the vineyards were known for producing great wines from the very
beginning. After the French Revolution, the winery passed into civilian
hands. It was in 1951 that "the Pope of Wine," Alexi Lechine, took over the
winery and added his name. For nearly half a century, the Lechine family
left its mark on the winery with extensive improvements and refinements in
vilification. Now owned by the Baqllande group, the chateau has entered a
dynamic new phase of its history with additional vineyards and a new
cellar.
The winemaking team is devoted to expressing the full diversity of
the winery's varied terroir. This wine is an excellent representative of
that diversity. It is a virtual taste of the Margaux in a glass.