Chicago-Style BBQ Baby Back Ribs
7/3/2018, noon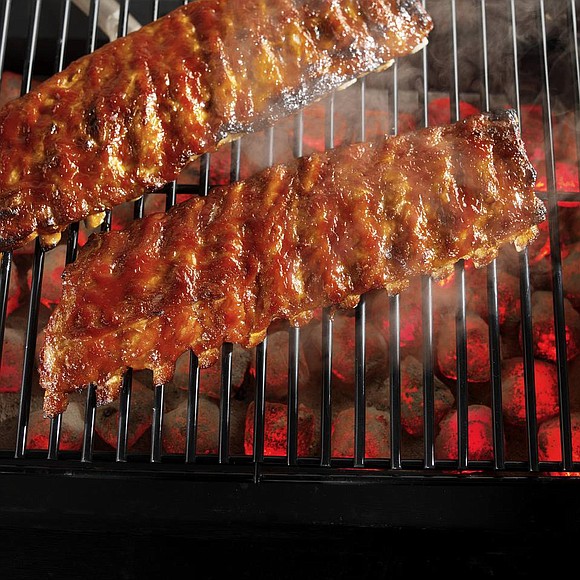 Serves 30 / Total Time: 1 hr
INGREDIENTS:
10 racks baby back ribs
For the Rub:
1 cup paprika
1/3 cup celery salt
1/3 cup dark brown sugar
2 tablespoons garlic powder
2 teaspoons mustard powder
2 teaspoons thyme
2 teaspoons white pepper
2 teaspoons cayenne pepper
For the Barbecue Sauce:
3 cups ketchup
1/2 cup orange juice
1/3 cup white vinegar
1/3 cup Worcestershire sauce
1/3 cup molasses
1/3 cup brown sugar
2 tablespoons yellow mustard
4 garlic cloves (minced)
1 tablespoon hot sauce
1 tablespoon soy sauce
1 teaspoon cooking oil
1/2 teaspoon red pepper flakes
DIRECTIONS:
In a large saucepan, sauté garlic. Add remaining ingredients and allow to come to a boil. Turn down heat and let simmer for 15 minutes, stirring often.
Remove from heat and allow to cool. While sauce is simmering, combine rub ingredients in a medium mixing bowl. Set aside.
Trim and clean ribs. Rub ribs with spices and let then sit for 30 minutes at room temperature.
Preheat grill. Cook over an indirect medium heat for about an hour. Turn once and cook for additional 30 minutes. Watch carefully to avoid burning. You might need to grill large quantity of ribs in shifts. When the ribs have finished cooking a knife will pass easily into the meat between the ribs and you can see no or very little pink.