Drivin:2019 Veloster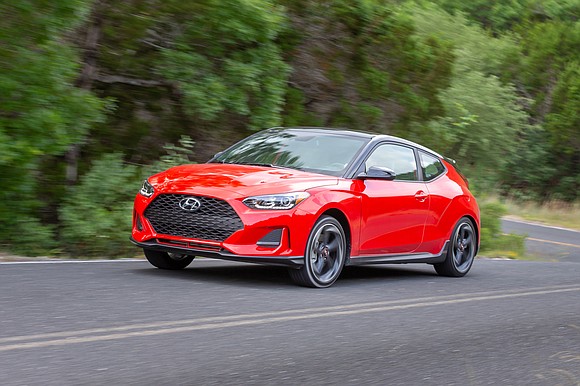 Hyundai is conducting regional test drives of its new Veloster and Kona. But there's more to it than that.
Since the automaker spun off its Genesis nameplate to form a new luxury line, Hyundai is faced with the same challenges that helped to create the Genesis nameplate in the first place. It must grow beyond the perception of a value brand, read cheap.
As an executive told me, Hyundai must convince people that the brand is a great deal more than a great deal.
The way it intends to do that is by offering outstanding safety, great equipment, the best warranty in the industry and good performance. Enter the 2019 Veloster.
In a market that is tilted toward light trucks versus cars by almost two to one, the 2019 Veloster has a leg or should I say a tire up. The small sportster is not your run of the mill car.
This is the second generation of the Veloster which was introduced about seven years ago. It had a sloping roof that is like no other in the market. Hyundai will say that the car has a symmetrical two-plus-one-configuration which is a cute way of saying it has three doors. The third one is on the passenger side and makes access easier for backseat entry.
It had a new cascading grill, full fenders at all four corners, available LED headlights and LED Daytime Running Lights. Functional air curtains at the corners made the 2019 Veloster look wider and the sloping roof made it look lower.
The traditional cascade grille shape had morphed into a strong, three-dimensional design. Much of the redesign is derived from enhanced proportions and volume that made the car look muscular. It really did look good and the 2019 Veloster looked fast.
The fenders were fuller, so were the wheel arches. The cowl point and A-pillars were moved further rearward and connected the hood line and belt line. There were 18-inch alloy wheels.

The roofline had been lowered, the fender line was also more coupe-like, and the rear end now has a more aggressive integrated diffuser. Available LED taillights helped bestow on the rear end a high-tech appearance.
Some Veloster models had a full darkened roof treatment for a high-contrast performance appearance. Veloster's dynamic rear design had a distinctive glass hatch and center-fascia chrome exhaust tips, with a single outlet for the 2.0-liter model and dual-outlets for Turbo and R-Spec models.
There were two engines. The 2.0-liter four-cylinder made 147 horsepower and 132 pound-feet of torque. It could be mated to either a six-speed manual or a six-speed electronically-controlled automatic transmission.
The1.6-liter turbocharged four-cylinder made 201 horsepower and 195 pound-feet of torque at a low 1,500 rpm. It could be mated to a six-speed manual transmission or a seven-speed dual clutch gear box.
Torque vectoring is offered on all models. There are seven: the 2.0 manual starts at $18,500, the 2.0 automatic starts at $19,500, the 2.0 automatic Premium starts at $22,750, the Turbo R-Spec manual starts at $22,900, the Turbo with dual clutch transmission starts at $25,400, the Turbo Ultimate with manual transmission starts at $26,650 and the Turbo Ultimate with dual clutch started at $28,150. All prices do not include the $885 freight charge and all models are front-wheel-drive.