Joliet residents question plans for Riverwalk Homes
Megann Horstead, TTW Reporter | 7/12/2018, 6 a.m.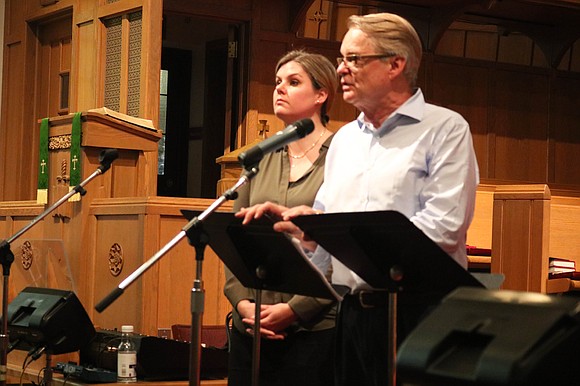 Joliet residents are looking to have a stake in the future plans for Riverwalk Homes, formerly known by many as Evergreen Terrace.
At a meeting Monday, the city of Joliet and Holsten Development of Chicago invited the public to learn more about the redevelopment options for the apartment complex.
Project leaders hope the meeting informs residents to help guide the direction of the Joliet City Council.
Riverwalk Homes, as it is currently, is comprised of a community center and 356 units over seven buildings.
Joliet officials are weighing five scenarios to redevelop the apartment complex. Plans vary in range from a cosmetic rehabilitation and demolition to the complete reconfiguration and resizing of the site plan and construction of new townhomes.
The city, in partnership with Holsten Development of Chicago, currently has $2.6 million in reserve waiting to be tapped for capital repairs.
Andrea Keeney, senior development manager for Holsten Development Corporation, said they pay into the fund monthly to account for work that needs to be completed.
A presentation during the meeting showed that as the density of the development in each scenario decreases, the cost to complete the project increases.
Keeney noted that different solutions become available to the city to meet funding gaps, depending on which scenario is selected.
Redevelopment costs could range anywhere from $11.4 million to $58 million.
Joliet officials during a June meeting expressed interest in recuperating the estimated $11.4 million, excluding the Community Development Block Grant funds already refunded, to acquire the property. That figure is currently included in the calculations for each scenario.
Some people at the meeting questioned the city's motive behind wanting to regain the money it spent to acquire Evergreen Terrace.
Officials have said they need to be made whole for their use of taxpayer dollars.
Keeney said if the city is willing to part with the funds used to acquire the property, the more realistic certain scenarios could become.
Sara Stovall, a Joliet resident and co-president of St. John Neighborhood Organization, asked if she could take a look at a scenario with the estimated numbers ran for it, taking out the repayment to the city to see what the estimated per-unit rate is to rehabilitate the homes.
"Maybe people would like to see that number, as well," she said.
Some people at the meeting expressed that moving forward with the lesser expensive options may not be what's best for the city.
Rachel Ventura, also of Joliet, asked to what extent residents of Riverwalk Homes have been engaged throughout the process.
Peter Holsten, president, managing broker and director of development for Holsten Development of Chicago, responded, saying they met about a year ago with the residents of the apartment complex to present examples of possible scenarios for redevelopment.
"At that time, they were very concerned about displacement," he said. "We told them at that time we were looking at vacant city parcels. We got a list of, I think, 70 or so vacant city parcels on which we can possibly build two flats or three flats as a possible relocation, as it seemed like nobody wanted to leave Joliet. We are still looking at that."