2018 Hyundai Kona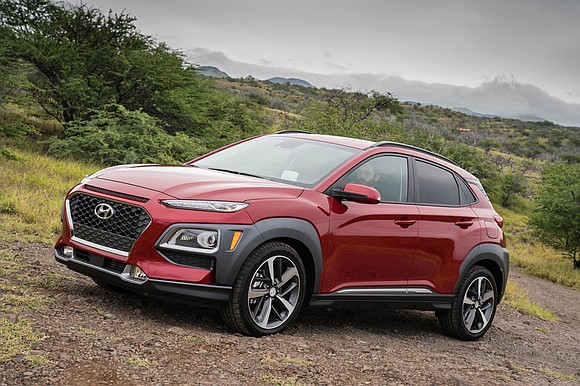 It's real simple. As sport utilities and crossover vehicles become ever more popular, automakers are developing new models to meet the demand. Enter the 2018 Hyundai Kona, an all-new small crossover.
They dubbed the design theme urban smart armor. In a phrase the Kona is meant to be an urban run about. But don't get it twisted. I have no doubt that it can gobble up Interstate Highways on long drives.
Still, the truth is how often do people take long trips? We drove about 100 miles during the course of the day and the majority of it was on surface streets throughout the metropolitan area here, starting downtown.
Several traits were apparent about the Kona. It was awfully easy to drive. Sight lines were great, although it was a small crossover, that doesn't mean it was small or that it drove small. And it was quiet.
Of course, its summer, this is certainly urban America and that means road construction. At one spot, a jackhammer was pounding away but the noise was subdued. We could tell just how subdued when we let down the window.
Another positive trait of the Kona was its suspension. We were impressed with how the CUV smoothed out the bumps and lumps in the roads here. It was really impressive.
The McPherson strut front suspension used a sub-frame bushing design for enhanced comfort and reduced NVH. It had gas-filled shock absorbers and a hollow stabilizer bar for lower weight and enhanced responsiveness.
The rear suspension design was developed for 2WD and AWD models. The former had a rigid torsion beam design for overall stability and control. The AWD model, which is what we test drove, had an independent, dual-arm multi-link design, optimizing ride comfort and stability in the wider ranges of off-road suspension articulation. Its geometry was specially designed for refined body movement on rough roads and off-road terrain.
The Kona had plenty of oomph. We had the Kona Ultimate AWD. It was powered by a 1.6-liter turbocharged four cylinder engine that was tuned to make 175 horsepower and 197 pound-feet of torque. It was mated to a seven-speed dual clutch transmission.
There is also a 2.0-liter four cylinder that makes 147 horsepower and 132 pound-feet of torque. It is mated to a six-speed automatic with manual shift capability.
I thought the 1.6-liter engine sounded a little weak but that was when I wasn't driving. From under the wheel, I felt the turbo's power and that engine didn't seem wimpy too me.

There was what Hyundai called motor-driven (read electric) power steering which the automaker said was more efficient and quieter than traditional hydraulic systems by reducing parasitic losses from ancillary belts and their continual drag on the powertrain. Further, the steering system was engineered and tuned specifically for Kona's precise and rapid adjustments in steering feel with changing driving conditions. That may be. All I know is that the Kona handled with rifle shot accuracy.
Hyundai said the "Kona was developed with a focus on enhanced driving dynamics and responsive performance for a variety of urban and multi-surface driving conditions. The long wheelbase, short overhangs and wide track create a planted stance that results in exceptional agility in urban environments with enhanced linear stability and ride comfort."