Jerk Chicken
7/23/2018, 6 a.m.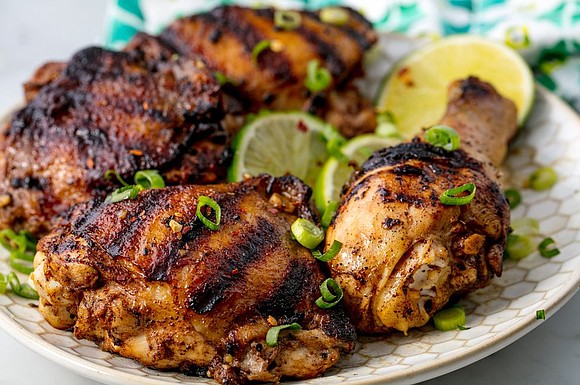 YIELDS: 4 / TOTAL TIME: 1 HR
INGREDIENTS
FOR THE MARINADE
1/4 c. lime juice
1/3 c. low-sodium soy sauce
1 tbsp. extra-virgin olive oil
3 cloves garlic, minced
1 piece fresh ginger, peeled and minced
4 green onions, thinly sliced
1 tsp. ground allspice
1/2 tsp. ground cinnamon
1/4 tsp. ground nutmeg
Freshly ground black pepper
FOR THE CHICKEN
1 1/2 lb. bone-in chicken drumsticks and thighs
Lime slices, for serving
Sliced green onions, for garnish
DIRECTIONS
Make marinade: In a large bowl, combine all ingredients and whisk until combined.

Add chicken and toss to coat. Transfer to the refrigerator and marinate at least 30 minutes and up to overnight.

Heat grill to high. Grill chicken until charred and cooked through, 20 to 25 minutes.

Serve with lime slices and green onions.