Shorewood man gets 24 years for Drug Induced Homicide
7/31/2018, 3:54 p.m.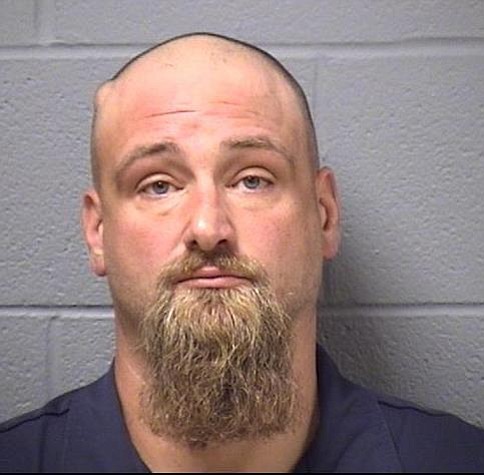 Will County State's Attorney James Glasgow announces that a Shorewood man has been sentenced to 24 years in prison for supplying the heroin that caused the overdose death of a young woman.
At the conclusion of a bench trial, Circuit Judge Dave Carlson in October found Dwight Musson, 38, guilty of Drug Induced Homicide and Unlawful Delivery of a Controlled Substance. The defendant faced a minimum of six years with a maximum of 30 years in prison for his crimes.
Judge Carlson handed down the sentence on Friday. He also sentenced Musson to 11 years for the Unlawful Delivery charge. The law requires that this sentence be served concurrently with the Drug Induced Homicide sentence.
Musson, who was 34 at the time, had agreed to meet with the victim, who was 18, on June 28, 2013 so they could ingest heroin, according to trial testimony. The defendant lied to police, telling them he and the victim had gone together to purchase the heroin.
However, text messages entered into evidence at trial by Assistant State's Attorneys Michael Fitzgerald and Peter Wilkes revealed that the defendant already had the heroin in his vehicle when he drove to meet the woman. These text messages proved that Musson was actually the dealer of the dangerous narcotic.
Musson callously left the unconscious and unresponsive victim in bed at his Shorewood home the following morning when he left for work. When he returned in the early afternoon and still could not revive her, Musson drove the victim to Presence Saint Joseph Medical Center. The hospital staff's efforts to revive her with Narcan, a drug that reverses the effects of an opioid overdose, were unsuccessful. She died four days later.
"This is the most sinister and diabolical unlawful delivery of heroin case that we have successfully prosecuted," said State's Attorney Glasgow. "Dwight Musson preyed upon an innocent young girl and then literally left her to die."
The State's Attorney continued: "We have deployed every available resource to stop this deadly heroin epidemic in Will County and to discourage people from using this dangerous narcotic. However, in this case, make no mistake that this young impressionable girl was killed by this treacherous predator, who abused her with no concern for her well-being. This lengthy and substantial sentence absolutely fits the crime, but nothing can ever compensate for the tragic death of this promising young girl."
The Will County State's Attorney's Office has filed Drug Induced Homicide charges in 17 cases over the past nine years. These are often the most difficult and labor intensive cases to investigate and prosecute because the most critical witness to the delivery of the heroin is the deceased.
Including Musson, the State's Attorney's Office has secured convictions against 10 defendants for sentences totaling 89.5 years.
State's Attorney Glasgow thanked the Shorewood Police Department for its dedicated and thorough investigation as well as Assistant State's Attorneys Fitzgerald, the Chief of Major Crimes, and Wilkes, Chief of the Narcotics Prosecution Unit, for securing this important conviction and sentence.