Grilled Flank Steak with Chipotle-Orange Mojo
6/1/2018, noon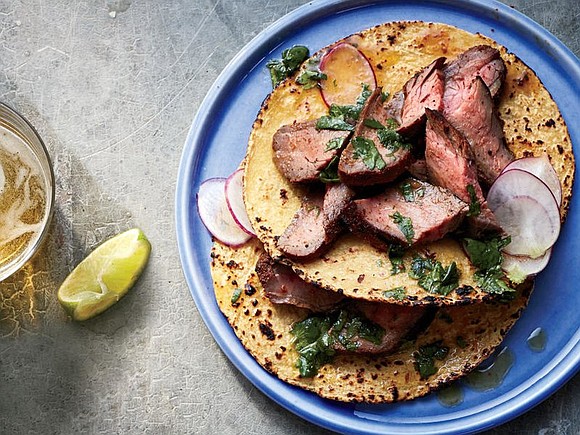 Serves: 8 / Total Time: 25 Mins
Ingredients
• 4 teaspoons ground cumin, divided
• 3/4 teaspoon ground red pepper
• 1 teaspoon chipotle chile powder, divided
• 1 1/4 teaspoons kosher salt, divided
• 1 (2-pound) flank steak
• Cooking spray
• 3 garlic cloves
• 1/4 cup orange juice
• 1 1/2 teaspoons fresh lemon juice
• 3/4 cup coarsely chopped fresh cilantro leaves and tender stems
• 3 tablespoons extra-virgin olive oil
• 16 (6-inch) corn tortillas
DIRECTIONS:
Step 1
Heat a large grill pan over medium-high heat. Combine 2 teaspoons cumin, ground red pepper, 1/2 teaspoon chipotle chile powder, and 3/4 teaspoon salt in a bowl; rub mixture over steak. Lightly coat steak with cooking spray. Add steak to pan; cook 4 minutes on each side or until desired degree of doneness. Let stand 5 minutes.
Step 2
Place garlic in a pan with enough water to cover; bring to a boil, and cook 1 minute. Drain; finely chop garlic, and transfer to a medium bowl. Add juices, cilantro, oil, remaining 2 teaspoons cumin, remaining 1/2 teaspoon chile powder, and remaining 1/2 teaspoon salt; stir with a whisk to combine.
Step 3
Heat tortillas according to package directions. Thinly slice steak diagonally across the grain, and serve with sauce and tortillas.