Fine Arts Festival at Grade School District 86
6/6/2018, 10:03 p.m.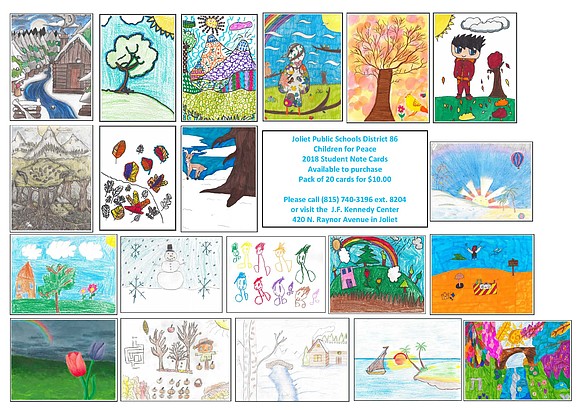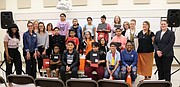 Congratulations to the students who had artwork showcased at the Joliet Public Schools District 86 Fine Arts Festival. Over 700 pieces of art were on display at the event. In addition, music was provided by the Dirksen Junior High Band, Gompers Junior High Jazz Band, Hufford Junior High Jazz Band, Washington Junior High Jazz Band, and the District 86 All City Jazz Band.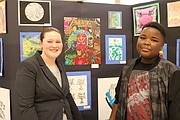 The art show was coordinated by teachers Miranda Campbell, Deanna Hasselbring, Rene Fitz-Henley, Denise Johnson, Nicole Koehler, Angela Klunder, Christine May, Katherine Roberts, Martha Summers-Romero, and Rachel Vische. One piece of student's art from each District 86 school was selected to turn into note cards. A pack of 20 cards and envelopes are available to purchase at the District 86 J.F. Kennedy Administrative Center located at 420 N. Raynor Avenue in Joliet for $10.00. Pictures of the winning note cards are posted on www.joliet86.org.
This year's student note card winners included: T.E. Culbertson Elementary: Serenity Bennett; M.J. Cunningham Elementary: Gabriela Quintero Gamboa; Eisenhower Academy: Merritt Moloney; Farragut Elementary: Samantha Bautista; Forest Park Individual Education (I.E.): Mariana Hernandez; Thomas Jefferson Elementary: Francisco Robles; Edna Keith Elementary: Franklin Foster; A.O. Marshall Elementary: Bricia Rojas; Marycrest Early Childhood Center: Julian Perez; Pershing Elementary: Autumn Boe; Sator Sanchez Elementary: Stephanie Yepez; Carl Sandburg Elementary: Taylor Vargas; Isaac Singleton Elementary: Bryan Hernandez-Bedolla; Taft Elementary: Paiton Pilgrim; Lynne Thigpen Elementary: Luis Garnica; Woodland Elementary: Adryan Garcia; Dirksen Junior High: Angel Heredia; Gompers Junior High: Orvill Cardenas; Hufford Junior High & I.E. Program: Chloe Darley; and Washington Junior High & Academy: Ramya Payton.