Goodman Theatre: Father Comes Home From The Wars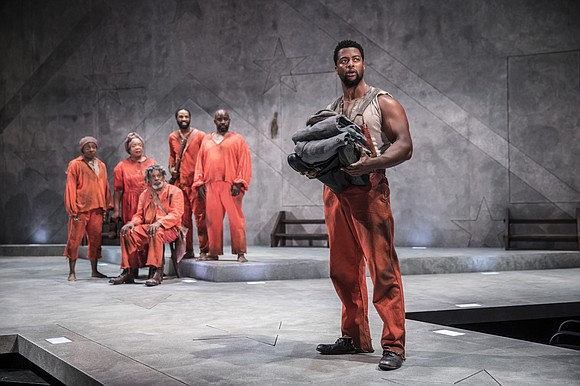 Pulitzer Prize winner Suzan-Lori Park's Father Comes Home From the Wars (Parts 1, 2, and 3) clocks in at a whopping 3 hours and 15 minutes (including two 10-15 minute intermissions), but audiences will find themselves
preening their ears to hear every word, with unwavering attention.
The play tells the story of Hero, a Texas slave during the time of the Civil War (played with resounding conviction by Chicago theatrical favorite Kamal Angelo Bolden (Court Theatre, Northlight Theatre, Victory Gardens, Chicago Shakespeare Theatre), who is faced with a dilemma; join his master as his servant during the Confederate army with the (alleged) promise of freedom,
or stay behind as a slave on the plantation. Not much is said in the history books about the role of slaves who served on the side of the Confederacy, but it is a fact that many were brought into the war by slave holders, some as man servants to their masters and others who fought willingly and vigorously, many with promise of freedom once the war was over.
Playwright Suzan-Lori Parks confronts Heros's conundrum head on with a brilliant and absorbing play that presents itself in blank verse, a similar form to that used by Shakespeare. At times, her work rises to Shakespearean proportions with its use of alliteration, hyperbole and irony, tragedy and a touch of wry humor, thereby touching all of the theatrical bases over the course of the play's three-plus hours. It is a masterpiece of theatrical writing and director Niegel Smith brings this epic trilogy to life on the Owen stage with an electrifying production.
The play opens with Chicago blues artist Melody Angel in her Goodman debut as the Narrator and Musician, setting the tone for what lies ahead with full-throated vocals and strumming guitar, bringing to mind the late great Odetta. Her vocals act as a reference point and a reflection throughout.
The rest of the cast is similarly superb. The rapid-fire verbal interplay between 30-year Goodman veteran Jacqueline Williams as Leader and fellow Goodman veteran Ernest Perry, Jr. as The Oldest Old Man at the beginning of the play is priceless, and an indicator of the on stage delights that will follow.
Performances are exceptional throughout. Aime Donna Kelly in her Goodman debut as Penny, Heros devoted love, who waits for him while he is away at war, explodes with the force of Kilauea in the final scenes. Jaime Lincoln Smith is a bottomless pit of suppressed emotion as Homer (in his Goodman debut)t, the would-be runaway slave who loses his foot due to Heros
betrayal. Goodman Theatre regular Demetrios Troy brings a touch of irony in his role as Smith, the Union Army mixed-race soldier who offers Hero yet another path to Glory. A bright spot in 'Father' is the long anticipated appearance of Brittney Love Smith as Odyssey Dog, also in her Goodman debut.
Suzan-Lori Parks is the only African American playwright to win A Pulitzer Prize. From this production of Father Comes Home From The Wars, its conceivable that there are many more such accolades in store for her in the
future.