RISE 2018 – Luncheon Conversation: Every Student Succeeds Act
6/7/2018, 3 p.m.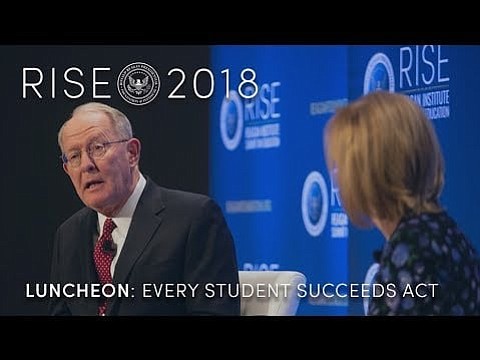 RISE is a day-long, bipartisan conference assessing the American education landscape in commemoration of the 35th anniversary of the seminal report: A Nation at Risk. RISE 2018 took place on April 12, 2018 in Washington, D.C.
This luncheon plenary conversation will explore federal priorities in education, including the ways in which the Every Student Succeeds Act (ESSA) was conceptualized, developed, and put into action. The discussion will also delve into the progress and process of reauthorizing the Higher Education Act. Finally, the conversation will illuminate areas where we have made progress in achieving excellence for our students and areas of opportunity for continued collaboration.
Introduction by Mr. John Heubusch, Executive Director, Ronald Reagan Presidential Foundation and Institute
Moderated by Ms. Judy Woodruff, Anchor and Managing Editor, PBS NewsHour
Panelists include:
– Senator Lamar Alexander, US Senate, Tennessee, 5th US Secretary of Education
– Senator Patty Murray, US Senate, Washington
For more information on the ongoing works of President Reagan's Foundation, please visit http://www.reaganfoundation.org