Self-defense for women
6/13/2018, 7:24 p.m.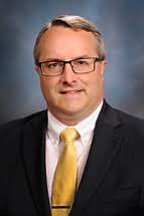 State Rep. John Connor, D-Lockport, will host a self-defense seminar for women with the Illinois State Police on Monday,
June 18 at 6 p.m. at the Romeoville Recreation Center, located at 900 W. Romeo Rd. Self-defense skills will be taught by a trained law enforcement officer from the Illinois State Police. The seminar will be interactive, and will
provide introductory techniques on how to protect oneself from assailants.
The event is free and open to the public, but women who plan to attend are encouraged to RSVP by contacting Connor's office at 815-372-0085.
For more information or to RSVP, residents are encouraged to contact
Connor's constituent service office at 815-372-0085 or RepConnor@gmail.com.