Trinity Services publishes book 'Beeing a Leader
6/14/2018, midnight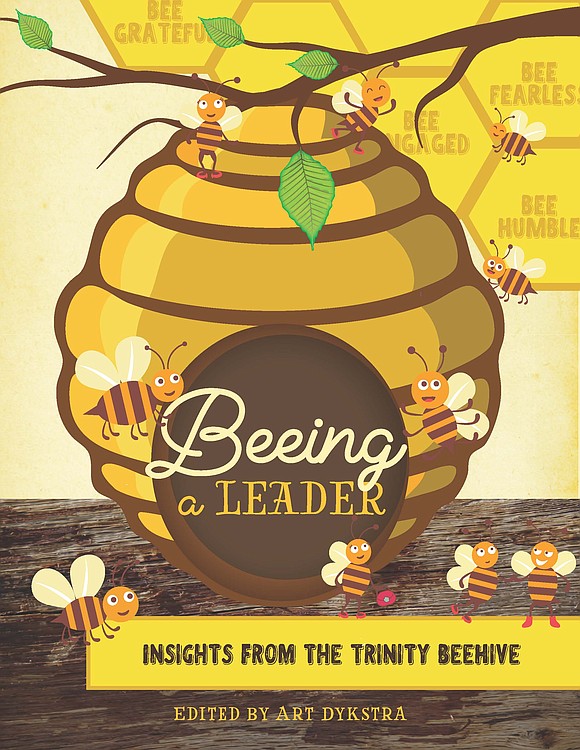 New Lenox - Trinity Services, Inc. released a new book on "Beeing a Leader: Insights from the Trinity Beehive," a fun, easy-to-read guidebook focusing on leadership traits that adhere to the fundamentals of positive psychology.
A group of 91 authors, all staff members at Trinity Services who have diverse professional backgrounds and personalities, collaborated on the book. Each wrote a separate entry on a quality of leadership. These qualities are divided into five categories — Nurture Positive Emotion, Experience Engagement, Cultivate Positive Relationships, Discover Meaning and Recognize Accomplishments — that are each central elements of positive psychology.
The concept for this book was developed by Art Dykstra, recently retired executive director of Trinity Services and editor of the publication.
In his introduction to the book, he writes that an active, energetic beehive is an apt metaphor for a fully functioning organization. Bees are unable to live by themselves. They must live and work together in a hive, communicating with each other to gather pollen and survive.
Every entry is written as a separate "bee" — for example, "Bee Grateful" or "Bee a Servant Leader." Each bee works together to contribute to the "hive," an organization that values the growth, happiness and success of all of its employees, recognizing that each staff member, because of his or her individuality and contributions to the group, is integral to carrying out the organization's mission.
The book aims to inspire and encourage people from all walks of life to embrace their natural leadership abilities and step outside of their comfort zones for their own personal growth and for the growth of those around them.
It also gives readers a behind-the-scenes look at the positive organizational culture at Trinity Services, which employs more than 1,000 people in Illinois and serves more than 3,500 people with developmental disabilities and mental illness.
The book is published by Trinity Services' support business High Tide Press and is available now at www.CherryHillHighTide.com. Proceeds from book sales benefit the people with disabilities and mental illness who are supported by Trinity.
Trinity Services, Inc. is a 68-year-old, nonsectarian, nonprofit organization dedicated to helping children and adults with developmental disabilities and mental illness flourish and live full and abundant lives. Trinity serves more than 3,500 people in more than 30 communities in northeast, central and southern Illinois. To learn more, visit www.trinity-services.org.