Gov. proclaims Juneteenth Day in Illinois
6/19/2018, 4 p.m.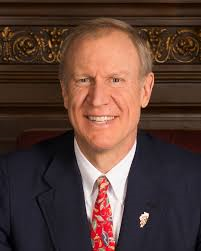 Gov. Rauner proclaimed June 19, 2018 as Juneteenth Day in Illinois to commemorate the emancipation of slaves in the U.S.
On this date in 1865, Union soldiers landed at Galveston, Texas, with news that the Civil War had ended and slaves had been freed. Texas was the last state to get the news of the Emancipation Proclamation.
"It is a privilege to celebrate Juneteenth with our African-American communities and work with them to encourage entrepreneurial development and promote a greater appreciation of the contributions that African Americans make to our culture and our commerce," said Gov. Rauner.
"Many of those freed by Lincoln's Emancipation Proclamation traveled to Illinois hoping for the promise of jobs and economic opportunity," he said. "They became an integral part of our state, which was the first to ratify the 13th Amendment abolishing slavery in our nation."
Juneteenth is the oldest known celebration commemorating abolition. It offers a time to reflect on freedom and affirm the nation's belief in economic equality.
In Illinois, these principles have been the underpinning of Executive Orders from Gov. Rauner aimed at ensuring fair practices for state procurement and providing training for Black business owners and entrepreneurs.
The Governor addressed a group of African American business people on Tuesday June 19th prior to a workshop on business development sponsored by the Office of Minority Economic Empowerment (OMEE).
The workshop explores opportunities for minority entrepreneurs who may not have access to a traditional business education, mentors, networks or capital. It is part of the state's Advancing the Development of Minority Entrepreneurs (ADME) program.
Additionally, OMEE offers other programs, such as the Fund for the Advancement of Minority Enterprises (FAME), which supports Black-owned businesses, entrepreneurs and start-ups.
Black entrepreneurship and empowerment have been a key focus of the Rauner administration. In the FY19 budget, $15 million in additional funding was allocated to OMEE's efforts across the state.
"The success and growth of African American businesses is key to creating jobs and opportunities for our community and the next generation of Black entrepreneurs in Illinois," Gov. Rauner said.