Drivin: 2019 Lexus ES 350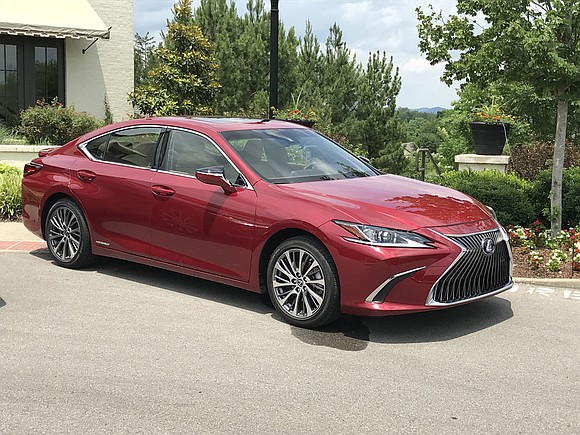 We test drove the F Sport from a golf club that acted as a base to go on different loops. The F Sport is a trim package not a performance package. It had the same 3.5-liter 302 horsepower V6 engine that was mated to an eight-speed transmission as the normal ES 350. The mechanical difference in the cars is that the F Sport had an adaptive suspension and an exhaust resonator.
I set the drive mode on the F Sport to S+ and got down on the accelerator and the exhaust note was noticeable deeper than the regular ES 350 and 300h. Steering stiffened, the car revved higher, thus it built up more torque and it changed gears with snappy authority. And that's what made the F Sport feel different.
In a break from tradition, the seventh-generation Lexus ES had a fast roofline that was meant to emphasize its lower stance and its aerodynamics. I think this is the smartest thing they did. In a phrase, the 2019 version of this car no longer looks like your grandma's big slow stodgy sedan.
The rear end was clean and sharply chiseled, with LED tail lamps that wrapped around the quarter panels to provide a continuous styling line from any angle. F SPORT models added a rear spoiler, additional rear badging and a dark lower valance to further refine the look.
There will be three different wheel designs, standard 17-inch and two 18-inch wheels for the ES 350 and ES 300h. The ES 350 F SPORT had standard 19-inch wheels.
As many automakers do, Lexus is trying to keep its current ES customers while attracting new ones. ES owners will find the new model more spacious, quieter and safer while the luxury brand uses heightened performance, technology and build quality to attract new buyers.
For instance, the seventh-generation ES is the first Lexus product to offer Apple CarPlay™ phone functionality, enabling drivers to control their iPhones® through the dashboard display screen or with Siri Eyes Free® voice control.
The Lexus ES 350 is also Amazon Alexa® enabled; drivers can use voice commands to control a variety of functions. These include car-to-home and home-to-car commands. Owners who have Alexa enabled devices in their homes can interact with their ES 350 before they ever get behind the wheel. Or they can control things in their homes like the lights and door locks before they leave their car.
On board Wi-Fi is also standard on the ES, while the optional navigation system includes an easy-to-read 12.3-inch wide dashboard display. Along with its on-board data set, the navigation system is also capable of receiving over-the-air updates for improved routing and the latest Points of Interest (POIs). Models without navigation will use an 8-inch display and all interactions will be controlled through the Remote Touch Interface (RTI) trackpad.
The interior of our test car was impressive. That huge 12.3 inch screen dominated as it sat pushed back atop the dash. It wasn't a touch screen because it was too far away from drivers. A slim ban beneath and in the face of the dash held the climate controls. Almost imperceptible beneath that were the small control buttons for the heated and cooled seats. And beneath that was a single disc CD player. But make no mistake, although this sounds like a stack it was a very clean and uncluttered horizontal layout.