Drivin: 2018 Volvo V90 T6 AWD Inscription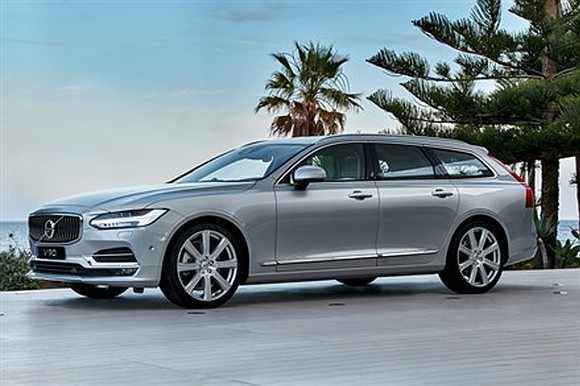 Volvo has a 60-year history of producing great full-size station wagons and the 2018 V90 TS AWD Inscription continues to the tradition. You would think that the Swedish automaker would not continue the product line given the popularity of utility vehicles. But it has an ace in the hole; Volvo produces some of the best station wagons anywhere.
The 2018 V90 comes in either T5 or T6 trims. I had the T6. It had a 2.0-liter four-cylinder engine that was supercharged and turbocharged. All Volvos have four cylinder engines; the only difference is how they breathe. On the T6 the engine made 316 horsepower and 295 pound-feet of torque at 2,200 rpm.
Transferring that power to the pavement was an eight-speed automatic transmission. There was three drive modes: eco, comfort and sport. I was in eco for most of the weeklong test drive.
This combination got a respectable 22- mpg in the city, 31 mpg on the highway and 25 mpg combined. The V90 all-wheel-drive had 45 cu ft. of cargo space with the back seats up and that expanded to cavernous 78.8 cu. ft. with them folded. And it weighed in at almost 4,200 lbs.
Don't be fooled by the four-cylinder engine. The 316 horsepower is more oomph than you're ever going to need on a city street or interstate straight aways that run to the horizon.
Once, getting on the Lodge Freeway, I had to get down on the accelerator as not to cause the car coming behind to slow down. The V90 accelerated smoothly, assertively and I was doing upwards of 70 mph without any effort. The engine sounded lighter but it was humming. As time goes on I thought this would be the new sound of performance.
That is the point of a supercharger and a turbocharger. The former provides get-up-and-go at low speeds and the latter is much more efficient at distributing more air to the engine at high speeds. In other words, this engine accelerates with lightening quickness from just about any speed.
Volvo has tiptoed into the ranks of luxury cars. In doing so, the automaker created an interior that was awash with porous wood, a bunch of cargo space (it is a station wagon) and cutting edge technology.
The nine-inch infotainment screen scrolled much like an iPhone or iPad. The car was a rolling Wi-Fi hotspot. It had Apple Car Play as well as Android Auto. Neither of which did I engage. The 12-inch instrument display was digital.
There were HD radio, USB ports as well as satellite radio, voice controls and a navigation system. Of course, at this price point stop start push button ignition and automatic lock and unlock, rear view camera with cross traffic alert and a panoramic roof were givens.
But my test car featured a convenience package that included heated washer nozzles, a 360-degree camera, park assist fore and aft and a compass embedded in the rear view mirror. Stand-alone options included a $3,200 audio system; 20-inch wheels that took the place of standard 19-inch wheels, metallic paint and an air suspension in the rear.
My test vehicle had heated and cooled front seats as well as a heated steering wheel. Both were welcomed. During the week that I had the V90, it was either cold or really cold. It snowed and then snowed some more.
It was the kind of white stuff that I risked getting stuck every time I backed out the driveway and onto the slush-filled street. But this Volvo V90 had all wheel drive. Although there was some wheel spin, some slipping and a bit of sliding, I never felt like I was in danger of getting stuck at the end of the driveway. Don't laugh; I remember getting stuck in the driveway – several times.
Anyway, once I got to the main streets the pavement was pretty much clear of the wet stuff. That's where I really appreciated the handling dynamics of the V90. Though it was a wagon it maneuvered like a sedan because of its double wishbone front suspension and integral link rear suspension.