Local start-ups compete for space in Mall
Challenge Offers Entrepreneurs Opportunity to Introduce Products to Community
6/27/2018, 4:49 p.m.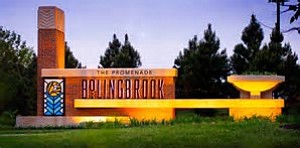 Looking to change the world of retail? Ready to share your big product idea? Enter your innovation in The Promenade Bolingbrook's Battle of the Pop-Up. The challenge offers area entrepreneurs and start-ups a chance to ignite their business with a storefront or kiosk in the mall for six months.
"The Battle of the Pop-Up entrepreneur contest highlights the business creativity we have here in the Bolingbrook area," said Kris Kulcher, the property's marketing director. "We're looking forward to see all the entries and ideas that come in."
The contest gives local entrepreneurs the chance to grow their startup in a brick-and- mortar environment at the beginning of this year's holiday season. The winner will receive a six-month, rent-free storefront or kiosk space, based on availability and the format that best fits the businessmodel and idea. The prize package is valued up to $25,000; it includes interior signage, table-printed displays, and graphic design services. The winner will also receive access to existing store fixtures and free utilities at the center.
To enter, participants must be prepared to obtain a business license by November 1, 2018, and be ready to operate their winning store location during mall hours from
November 1, 2018 through April 20, 2019. Entries will be judged on business strategy, concept creativity, and likelihood of profitability, among other criteria.
The deadline for entries is Friday, July 20, 2018. There is no cost to enter.
To apply: The Promenade Bolingbrook's website
(http://www.shoppingpromenade.com/thechallenge/)
Email this completed PDF https://starwoodretail.com to the Challenge@StarwoodRetail.com. Deliver their entry in-person by visiting the mall management office at The Promenade Bolingbrook 631 East Boughton Road Bolingbrook, IL 60440
Winners will be contacted via email or phone in August 2018; see the full list of rules and regulations.