Dialogue on men's issues, race and politics
Megann Horstead, Reporter | 6/29/2018, 6 a.m.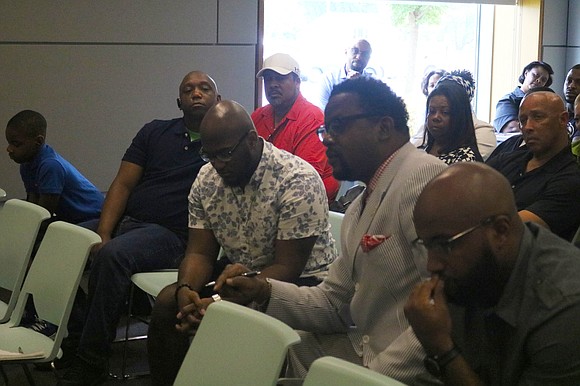 For some, the way the expression "staywoke" gained traction in the era of social media has moved the dialogue forward on race relations in the nation in different ways.
As such, dozens at the Fountaindale Public Library converged to take part in a program aptly titled, "StayWoke The Men Convene."
It was the third of four community conversations that various Joliet organizations presented, this time around bringing together the efforts of the NAACP—Joliet Branch, Zeta Phi Beta Sorority Inc.—Eta Chi Zeta Chapter, Sigma Gamma Rho Sorority, Inc.—Iota Rho Sigma Chapter, and Alpha Kappa Alpha Sorority Inc.—Kappa Mu Omega Chapter.
The program, by design, aimed to get the community talking and hear from them regarding issues that need to be addressed.
Panelists for the event included Mike Clark, of NAACP—Joliet Branch; Jessie Rhymes, of Zeta Phi Beta Sorority, Inc.—Eta Chi Zeta Chapter; and David Hulbert, of Alpha Kappa Alpha Sorority, Inc.—Kappa Mu Omega Chapter.
"Basically, we wanted to get together and have a conversation about some of the things going on in our community, especially as it concerns black men," Clark said.
Topics discussed during the program ranged from the influences on black men today and concerns for image to bridging the generational disconnect and civic/community engagement.
"One thing is we really want everyone to be involved in this conversation, join in, and give your input," Clark said. "I think we can get some really good things going out of this."
Rhymes, a father and a Joliet resident, told those at the event his thoughts on how the family dynamic influences young black men. He said being an influential black man means more than sporting a nice car, being a good athlete or having nice clothes.
"For me, I try to make sure that anything that [my children] see me do is positive," he said.
Rhymes stressed how important it is to be mindful of what you do at home and said it's about the values that you instill in others.
Among those at the event was Bolingbrook resident Ray McConico. He said the program came as advertised on social media and that it opened up a dialogue in which he learned of different perspectives.
"It was exactly what I thought it was going to be," McConico said, adding that he "didn't know there were so many organizations in the area."
Clark said he hopes more black men will get involved in the community moving forward.
He wants to know "what can be done to get the numbers up or make the organizations more attractive, or a better fit, for us to come out and be involved."
Rhymes questioned if the values instilled in him years ago are emphasized with the younger generations.
"There's often an age disconnect, and we have to find ways to bridge that gap," he said.
McConico acknowledged Rhymes' concern and said as a 27-year-old himself, he thinks it's important for older generations to find a way to relate to those who are younger.
Clark agreed, saying he is all for young people and their use of social media, but there are actual rooms where decisions are being made.