Chamber president calls Joliet's record of minority hiring 'god awful'
Brock A. Stein | 3/6/2018, 10 a.m. | Updated on 3/6/2018, 2:03 p.m.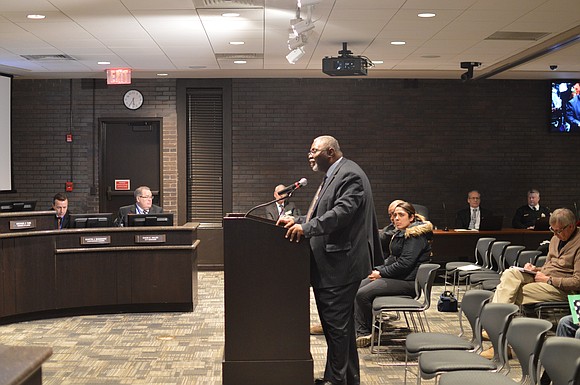 Larry Ivory, the CEO of the Illinois Black Chamber of Commerce told Joliet's city council this week that it needs to do more to ensure more minorities participate in local work projects.
In remarks during Monday's pre-council meeting, Ivory said that the city needs to join a growing number of cities around the state that have ordinances on the books that remove barriers to minority contractors and other business owners from winning contracts and getting work.
"When it comes to contracts and opportunities there seems to be some type lack of balance," said Ivory.
Any new ordinance would include participation for all minorities said Ivory but a disparity study, he said, would most likely reveal that "African American participation in the great city of Joliet is god awful."
"And that's not because I think you want it to be god awful it's a fact that there is not system or process in place" to increase minority participation, he said.
Without Federal programs like Title VI, Ivory said that minority participation would be "non-existent" in some places because "people are comfortable doing business they way they've done business" and that the change would provide better representation for African American residents who pay retail and other taxes.
"I ask you to do the right thing by putting together an ordinance that would…make minority participation a part of life here in Joliet," he said noting that he's contacted other black chambers throughout the state "to make sure that you don't take us lightly."
Ivory spoke to the council at the request of the members of the Black Contractors of Will County which protested outside of the Will County Courthouse last week to draw attention to the lack of minority contractors working on the project.
Joliet Mayor Bob O'Dekirk said that the group's request "isn't about one project, it's about a pattern" that has kept minority contractors and others sidelined.
He and council member Jan Quillman said that the city's diversity committee looked at the issue before and thought an ordinance was already in place. Quillman questioned whether the city could require minority participation on the Will County Courthouse project of which Joliet is a partner.

City attorney Martin Shanahan said that for city projects, bid documents require 10% minority participation which Public Works Director Jim Trizna said is verified through documentation before payments are made. Trizna said that the bid requirement has been in place for over 30 years.
Diversity committee chair person Bettye Gavin said that her group would set a meeting with Ivory and other members of the local group to review what the city has in place for minority hiring requirements and then to craft something that will codify the rules to ensure more minority participation in the future.
Ivory said that the rules will bring the city out of the "dark ages" and will provide more opportunities for minorities who have been frustrated with a system that has left them out.
"When people don't have the opportunity, I can assure you they won't be locked out forever," said Ivory.