EZ Mail opens in Romeoville
3/7/2018, 9:40 a.m.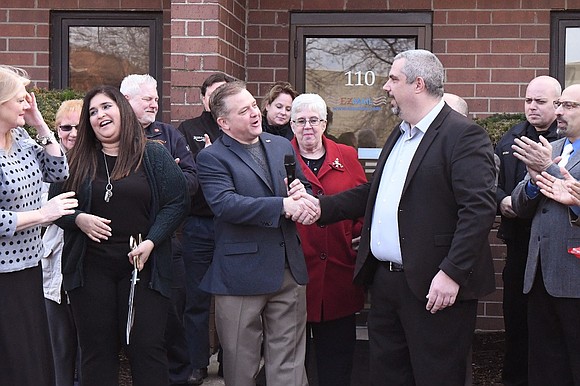 Thetimesweekly.com
EZ Mail was officially welcomed to Romeoville in March with a ribbon cutting ceremony. Attendees ranging from elected officials to fellow business owners gathered just off of Route 53, down the road from White Fence Farm.
"Despite the prevalence of email in today's business environment, traditional mail is still instrumental," said Mayor John Noak. "Invoicing, company information, and product all go out via mail. EZ Mail can help keep the process simple."
EZ Mail offers a multitude mailing solutions, from postage machines and scales to address printers, paper folders, and software. They also offer the supplies to keep those solutions stocked and running. You can visit them online at ezmailco.com.
New buildings
The Romeoville Village Board has approved the plans for two new buildings, which promise to bring new business to the village.
A single story, 43,000 square foot office building will be added to the Windham Lakes Business Park. The structure will be constructed on the vacant property near the intersection of Weber Rd. and Windham Pkwy. It will be the largest speculative ground up office building to be constructed within northern Will County in the last few years.
The second structure, near the intersection of Airport Road and South Pinnacle Drive, will house Viga Design, which has outgrown their old facility and has chosen Romeoville as their new place of business. Viga specializes in designing, manufacturing, and installing vinyl graphics for fleets of commercial vehicles.
"It's a good day whenever we can bring more jobs to Romeoville," stated Mayor John Noak. "These new structures will do just that. We've already got a fantastic tenant for one project and anticipate high demand for the office spaces in the other project."
The office building plans to break ground spring 2018 and the Viga project hopes for a summer 2018 start date.