Troy Schools News
3/7/2018, 10:26 a.m.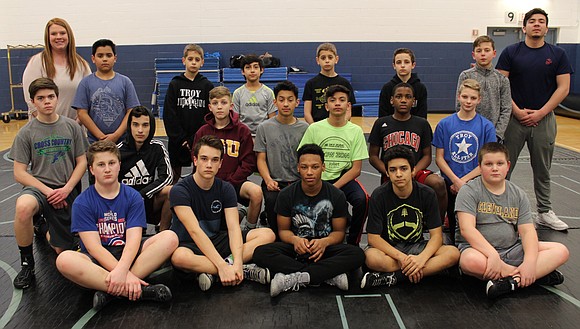 Troy Wrestling Team advances to Sectionals
The Troy Wrestling Team of Troy Community School District 30-C recently advanced to sectional competition after a big win at the Feb. 24 regional match in New Lenox. The team as a whole took 3rd place, and of the 25 Troy wrestlers who competed, 14 qualified for sectionals.
The students who will advance are Jonah Maldonado and Janick Schwab, who placed first; Joey Boettger, Jaylen Millraney and Jacob Schmitt, who placed second; Justin Boettger, Colin Morgan, Jayden Groner, Nijee Harris, Justin Pullen and Arthur Hrvatin, who placed third; and Austin Perella, Romeo Grembowicz and J.R. Pierscionek, who placed fourth.
Also competing on the team were Kenny Ormes, Vincent Lukas, Colin Flynn, Zach Meza, Korey Koser, Gavin Garcia, Pablo Lazaro, Julian Hernandez, Josh Koser, Nathan Carpenter and Wyatt Schmitt.
The students attend William B. Orenic Intermediate School and Troy Middle School.
Head Coach Joe Jaeger said the entire Troy team wrestled with heart and pride.
"It was a Regional that definitely showed the coaches the work these wrestlers have put in," Jaeger said.
Before the regional competition, the Troy Wrestling Team took home the 4th Place trophy at the 2-day Dale Keith Tournament, out of 16 teams that participated.
Individuals who placed in their weight categories at Dale Keith were Joey Boettger and Janick Schwab, with 3rd places; Jaylen Millraney and Jacob Schmitt with 4th places; Tyler Simulick, Austin Perella, Justin Boettger, Colin Morgan and Cale Stonitsch with 5th places; and Arthur Hrvatin and Jayden Groner with 6th places.
"This year has definitely been difficult, as our team is very young, but talented," Jaeger said. "All coaches have seen much improvement as we have progressed in the season. Our wrestlers have been able to fix little mistakes, and it has shown as we approach the state series. One thing that I hope all my wrestlers do is leave everything that they have on the mat each match."
Coaches are Joe Jaeger, Colleen Jaeger, Chris Meza and Joe DeLuca.