Candidates make their final appeals to voters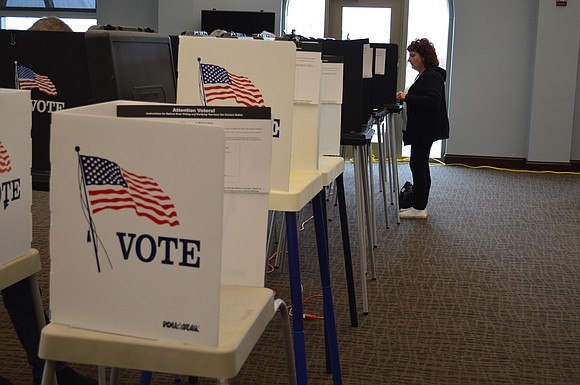 For candidates running for office in the March 20 primary, two parades on two successive weekends presented golden opportunities to meet potential voters.

Lockport Township Clerk Denise Mushro-Rumchak and former Will County Recorder of Deeds Laurie McPhillips both said they were trying to meet as many people as possible including those at the two Irish parades held in Manhattan and Plainfield in recent weeks.
In addition, Mushro-Rumchak said that she was doing as much as she could to communicate with voters by knocking on doors, making phone calls, and attending fundraisers.
"Just getting as many people who are interested in the campaign to get out and vote," she said.
"It's the most important thing right now."
Mushro-Rumchak said that the formula hasn't changed since she first started her campaign, focusing on telling people about herself, her qualifications and her integrity. It can be a daunting task in a county with just over 431,000 registered voters.
"How do you reach all those people?," she said, "You don't. You have to hope and pray that they're researching the candidates."
Republican candidate Laurie McPhillips said that she too was spending her final week going door to door, packing her schedule with events, and shaking as many hands as she could.
"I'm out meeting as many people as I can," said McPhillips who is running unopposed for the Republican nomination.
"I don't have a primary but I still want to make sure that my name gets out there."

McPhillips said that she hopes to "hit the ground running" for the November election as soon as she knows who her Democratic opponent will be.
Mushro-Rumchak is running in the primary against District 9 Will County Board Democrat Lauren Staley-Ferry who in November apologized for a 2002 charge of check forgery and theft of funds when she lived in Arizona.
Judicial
Voters in Will County will also be choosing two judges to sit on the bench in the Twelfth Judicial Circuit.
Three Democrats and one Republican are running to fill the seat vacated by Judge Daniel J. Rozak who retired in January after 40 years.
Democrats DAVID GARCIA, MOIRA K. DUNN and DANIEL O'CONNELL are seeking the nomination to face off against Republican BEN BRAUN who is running unopposed.
In addition, there are two candidates running for the spot to replace Judge Carla Alessio Policandriotes who announced that she plans to retire this August.
Democrat VINCENT F. CORNELIUS and Republican VICTORIA McKAY KENNISON are both running unopposed and will face each other in the November general election.
To help voters decide on judicial candidates, the Illinois State Bar Association releases the results of a poll of attorneys from the circuit district where they're running for office.
"Candidates must receive 65% "yes" responses to the question regarding "Meets Requirements of Office" in order to receive a "recommended" rating according to a press release from the ISBA.
Only three candidates received responses of 80% or better from the ISBA poll. Those include Democrat Vincent Cornelius (83.56%) and Republicans Victoria McKay Kennison (80%) and Ben Braun (86.63%). Democrat David Garcia also received a recommended rating with 67.9%.