Shorewood micro-brewery now open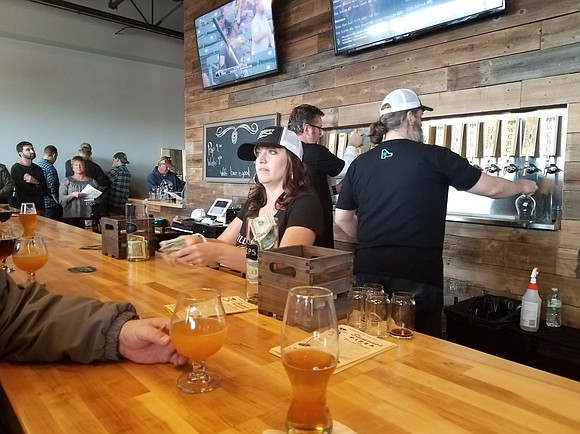 There was a line of people stretched along most of the strip mall building waiting for Will County Brewing Co. to finally open their doors on Saturday.
It was a sign that some of the setbacks the owners of Shorewood's first microbrewery encountered as they prepared to open were worth the hassle.
"We had no idea what to expect," said Jamie Albert, the Monday after their opening weekend which drew large crowds of beer aficionados from all over Will County and the state.
The opening weekend went so well that on Monday Albert was busy brewing new batches of beer to replenish their stock before he and his partners prepared to re-open on Thursday.
Albert along with his partners James Kennedy and Eric Wills originally set out to open their new 2700 square foot craft beer tasting room in June last year in the Hammel Creek Commons retail center near the intersection of Route 52 and River Road in Shorewood.
But the trio ran in to problems when the manufacturer of their brewing system equipment closed unexpectedly taking their $30,000 deposit with them. They ordered the brewer in March last year and finally learned in September that the company would not deliver the brewer or refund their money.

To start, Will County Brewing Co. will have 5-6 beers on tap with an eventual goal of brewing up to 16 recipes.
The Will County craft brew landscape has expanded its options for discerning beer drinkers in recent years with a home brewers supply store, Chicago Brew Werks, leading the way when it opened in Plainfield in 2013. The owners of Metal Monkey Brewing in Romeoville cited their love of home brewing when they opened their craft brewing establishment in 2016. And two craft beer makers opened in Joliet in 2017 with MyGrain Brewing Company opening in the former Union Station complex downtown in August and Elder Brewing Co on Cass St. about a month later.