Students, parents, faculty take part in walkout protests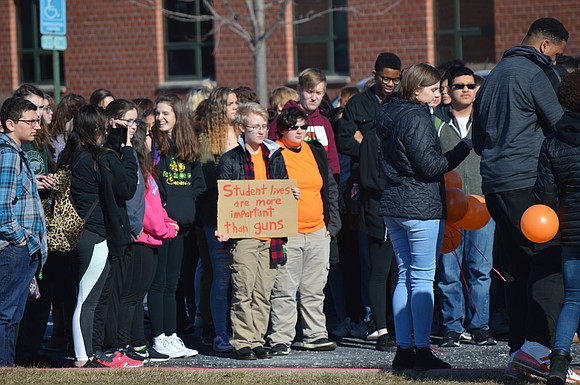 Plainfield Central students and faculty walked out of their classrooms on March 14 to mark the one-month anniversary of the shooting at Marjory Stoneman Douglas High School that left 17 students and faculty dead in Parkland, Florida.
The students were part of the nationwide protest "#Enough! National School Walkout" which included all 4 of Plainfield School District 202 high schools as well as others around Will County.
Organizers of the walkout hoped it would raise awareness and spark conversation about what to do to increase school safety and to prevent further mass shootings.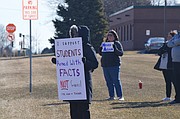 Plainfield Central parents Tom and Elizabeth Hug organized parent groups to come out and show their support for those who did walk out at 10 a.m. on Wednesday.
"It's about supporting not only the students and their message but the teachers because they need to be safe," said Tom. Hug said that he's heard ideas that range from banning guns to outfitting schools with bullet proof glass but he doesn't know if there is one single answer.
"I don't know what the answer is but everybody has to sit down and realize we have work through this and make these schools safe," he said.
The students at Plainfield Central who took part in the protest observed a 17-minute vigil—1 minute for every victim of the Parkland shooting—and read each name while releasing an orange balloon in their honor.
Elizabeth Hug said that she came out in support of the walkout because she knows it will be a pivotal moment in her kids' lives. The couple have a freshman and a junior who attend the school.
"They're going to have this moment in their hearts for the rest of their lives," she said.
To get the most out of the teachable moment, the school district offered a 1-hour afterschool detention for kids that took part in the protest that could be erased by attending an assembly with an elected state representative. A letter sent from the district indicated that those participating in the talk with students would include State Representative Mark Batinick at Plainfield Central and East High Schools, State Senator and gubernatorial candidate Dan Biss at Plainfield North High School and State Representative Natalie Manley and State Senator Jennifer Bertino-Tarrant at Plainfield South.
Parent Nikole Custer said that she was glad to see the school offer students a chance to see how the protest connects to greater civic engagement and social activism.
"I think it's important for them to understand that they have a voice," said Custer.