Auto review: 2019 Ram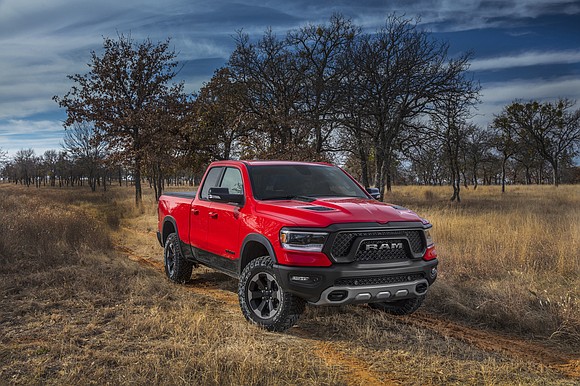 Every pickup truck maker is upping its game. For Ram, the 2019 edition is all new from the ground up and that includes a new Ram's head logo and RAM spelled out in all the grilles and on the tailgates.
Gone is the horse collar grille as Ram continues to step away from Dodge and establish itself in the market as an independent brand. This process started in 2009 and though it has been almost a decade some still think, me included, of Ram as Dodge Ram; a nameplate that has been around since 1933.
But since the breakup, Ram sales have more than tripled and the brand has become the loyalty leader for half ton pickup trucks.
The new Ram is lighter, longer and wider. Four was the magic number. The 2019 Ram has a four-inch longer cab and most of the extra space is for the second row. The wheel base is four-inches longer and so is the overall length of the pickup. Ram said its truck had the most spacious interior for additional features and passenger comfort.
There was no opportunity to do any comparison testing but we (me and my driving partner) did get in the back seats of the 4X4 Big Horn Crew Cab we were test driving and we both found plenty of room. To me, it was as spacious as a long wheel based full sized sedan. My driving partner even crossed his legs.
There was differentiation between the six trim lines. The grilles and headlights were different but they all had RAM in the center of the grille. Some trim lines featured LED adaptive front-lighting systems that included bi-functional projector headlamps, fog lamps and tail lamps.
The Tradesman has a base price of $31,695; the Big Horn starts at $35,695; the Rebel starts at $43,995; while the Laramie starts at $40,690; the Long Horn starts at $51,390 and the top of the line Limited starts at $53,890. These prices do not include the freight charge of $1,645 and they are for 4X2 versions. All the trim lines have a 4X4 version.
The Ram seemed like a rolling high tech platform. Designers and engineers added more than 20 sensors, cameras and monitoring devices. The center console had 12 different storage configurations. That might sound like hype but it was multi-faceted. I discovered that when my smartphone dropped through what I thought was a closed bottom slot into the lower level bin.

Ram officials said their truck had 100 percent more storage capacity than its competitors. I bet that included the in-floor bins with tie-down rings in the second row. Those second row seats slid forward and reclined. In other words, they were adjustable.Up front, an all-new switch bank had dedicated toggle switches, a wireless charging dock and up to five USB plugs, including type C ports which we were told charge faster.
I didn't see them all but in addition to the half dozen trim lines customers have a choice in the interior of real porous wood, real metal bezels and real leather. There are six different interior themes to choose from. And there were wheels too, sizes range from 18-inches to 22-inches and there are 15 new wheel designs.