Joliet teacher receives Golden Apple
3/21/2018, 12:05 p.m.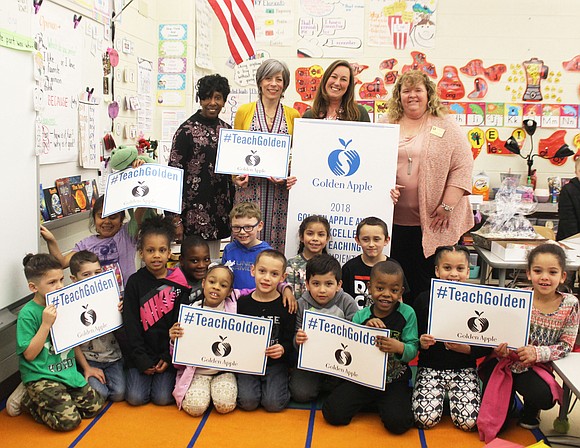 Golden Apple surprised Lynne Thigpen Elementary School First Grade Teacher Carrie Garrett with the highly respected Golden Apple Award of Excellence in Teaching.
The annual award, which recognizes and honors outstanding teachers for their role in building a stronger, better-educated society, was presented to Garrett in her classroom in front of her students, family, and Joliet Public Schools District 86 Administrators.
Carrie Garrett is one of only 10 Chicagoland teachers, the only one in Joliet and Will County, to receive this annual award. Created by founders Mike and Pat Koldyke, Golden Apple's mission is to inspire, develop and support teacher and school leader excellence in Illinois, especially in schools-of-need.
The 2018 award recipients were selected from a record-setting number of nominations - more than 650 nominations, and represent Pre-K through 3rd grade teachers from the Chicagoland area. Fellow educators, students, parents and community members nominate teachers for the award each year.
"We are so proud of Carrie for receiving this prestigious award," said Joliet Public Schools District 86 Superintendent Dr. Theresa Rouse.
"Golden Apple is proud to recognize this year's award recipients for their exceptional accomplishments in the classroom," said Alicia Winckler, Golden Apple president and CEO. "Each of the recipients is uniquely talented and epitomizes the dedication, skill and drive in the teaching profession that facilitates better futures for scores of young people."
Northwestern University provides each Golden Apple Award recipient with a tuition-free, spring quarter sabbatical to study at Northwestern University. Each recipient also receives a $5,000 cash award. Award recipients become Fellows of the Golden Apple Academy of Educators, giving them a stronger voice and a larger stage from which to make a difference in education. All recipients will be featured on May 19 on a WTTW one-hour TV program and livestream marketed to local school communities. To view the livestream, visit https://www.facebook.com/goldenappleillinois.