Wine of the Week: Grgich Estate Posip - $23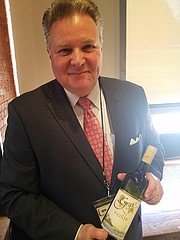 One of Napa Valley's most famous winemakers, Mike Grgich, founder of Grgich Hills Estate and credited with creating the wine that won the Paris Competition in 1974, which put California wine on the map, has reached back to his cultural roots to create an outstanding portfolio of wines from Croatia.
Not a great deal is known about Croatian wine, but the country has been producing wine for two thousand years, after grapes were introduced by the Phoenicians and Ancient Greeks. Located just across the Adriatic Sea from Italy on the Dalmatian Coast, the region has ideal climate and soil conditions for growing wine grapes. Much of the white wine is made from the native Posip grape or the dry Grasevina grape and reds from Malvasia of Piavac Mali.
The lack of a real export chain has kept the presence of Croatian wines in the U.S., at a minimum. Now, all that's been corrected and the floodgates are opening. Now is the time to take advantage of some terrific wines at an outstanding value.
Grgic Posip ($23) is a perfect springtime wine that goes with just about anything. It's great for serving well chilled with seafood salads, grilled salmon or an appetizer of asparagus spears wrapped with prosciutto. Rotisserie chicken slathered with Rosemary, olive oil and lemon is another option that goes perfectly with the wine. Served on its own as an aperitif, Grgic Posip is absolutely delightful. There's just enough fruit flavor of lemon and fresh pear with a hint of cardamom spice to keep it interesting.