2019 Toyota Avalon
By Frank S. Washington | 5/2/2018, 1:36 p.m.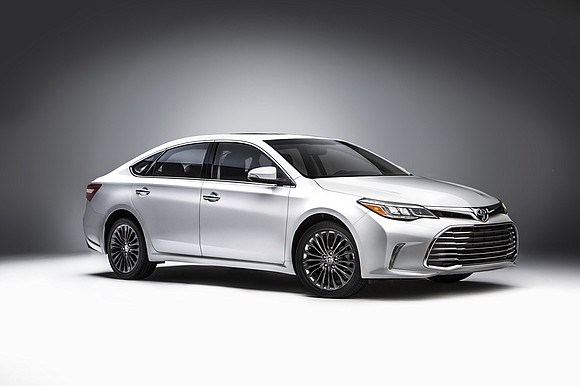 The interior was dominated by a floating center stack. It looked like it was carved from one piece, almost like a ski jump ramp. There was a storage space at the bottom of the stack. The Avalon had five USB jacks and four of them supplied rapid charges. The premium audio system was formidable; 14 speakers and 1,200 watts.
There was quilted leather, heated and cooled front seats, heated rear seats and the usual suspects of creature comforts. Our test vehicle had satellite radio, a navigation system, moonroof, paddle shifters and push button start/stop.
A JBL performance audio system is standard on Limited and Touring grades and is available on XLE and XSE grades. In the XLE and XSE passengers can listen to crisp tunes on a standard 8-speaker audio system having Entune 3.0 Audio Plus with Connected Navigation Scout GPS Link App and Entune 3.0 App Suite Connect, featuring new in-vehicle third-party applications. Apple CarPlay is standard on all grades.
Entune 3.0 Toyota Connected Services include: Safety Connect and Service Connect with a 3-year trial period and Remote Connect with a 6-month trial. Wi-Fi Connect Powered by Verizon trial with up to 2GB within 6 months and the Entune 3.0 App Suite is subscription-free.
The system's new 9-inch capacitive touchscreen can be pinched and flicked, just like personal mobile devices. Its refresh rate is quicker, its voice recognition is more perceptive, (we didn't try it), and it better recognizes users' gestures, so said Toyota.
The 2019 Avalon will also feature Toyota's first integration of smartwatch or Amazon Alexa-enabled device connectivity, as part of Toyota Remote Connect. This will allow drivers to lock/unlock their doors, start their engine, or check their fuel level, all from the convenience of their smartwatch or Amazon Alexa-enabled device.
It's voice controllable and compatible with select Android or Apple devices. Toyota said it is among the first automakers to feature Amazon-enabled device connectivity capable of executing home-to-car and car-to-home interactions.
All this connectivity technology is about attracting a younger buyer. With that group, if you can't connect forget about selling them anything.
But even though sound is central the 2019 Toyota Avalon is a car and how it drives is very important to the ownership experience. The sedan was athletic as I pushed it through twisting two lane roads. The 2019 Avalon stayed level and never lost its track.
I was impressed with the handling and even thought that it might have all-wheel drive it stuck to the road that well. There was no torque steer with this front-wheel-drive sedan. It was quiet and there was not much wind noise. The car was not difficult to drive.
About the only thing we found to gripe about was the gas and brake pedals. After pressing them, there was a click when they were released. We reported it but had to remember these were pre-production cars. We certainly expect that to be remedied by the time the 2019 Avalon goes on sale.
The gasoline XLE starts at $35,500, for the XSE it is $38,000, the Limited starts at $41,800 and the Touring starts at $42,200. The Hybrid XLE starts at $36,500, the XSE starts at $39,000 and the Limited starts at $42,800.

Toyota, just about any Toyota, was never known for dynamic styling. Design-wise they were thought to be, well, boring. With each new generation of the brand, styling gets a lot more aggressive. That was the case with the Camry; now the same holds true for the 2019 Toyota Avalon. A lot of things will be said about it but I doubt that boring will be one of them.
Frank S. Washington is editor of AboutThatCar.com