Goodman: "Until The Flood" lays bare the soul of Ferguson and the nation - now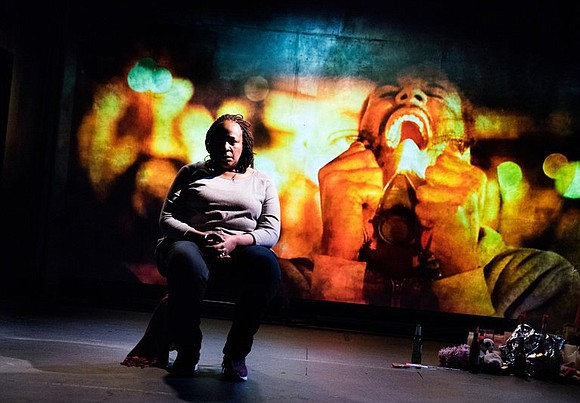 Dale Orlandersmmith's Until The Flood, playing in the intimate Owen Theatre
at Goodman Theatre now though May 12 is exactly what the Greeks had in mind
when they invented theatre. It brings together strong words and nuanced
characterization that are both symbols unto themselves and representative
of a larger truth. The play uses the words of actual Ferguson residents
compiled from months of in-person interviews conducted in and around the now
infamous Missouri city where 18 year old Michael Brown was gunned down by
a young, white police officer, Darren Wilson, on the night of August 9,
The incident became, literally, the racially charged shot that rang
around the world, sparking international protests, and a wave of rising
cynicism and outcry over similar incidents of police over-use of force in
black communities around the country. The most recent manifestation is this
stage production by Pulitzer Prize-nominated playwright Dael Orlandersmith.
Until The Flood was originally commissioned by the Repertory Theatre of St.
Louis in 2016 and debuted there in a theatre just blocks from the scene of
the tragedy. Since then, the play has played to rave reviews Off-Broadway.
After its limited Goodman engagement, it continues its journey to Seattle's
Contemporary Theatre and Portland Center Stage.
Playing eight composite characters based on her extensive research into the
moods of actual residents in the years following the Ferguson shooting,
Orlandersmith inhabits each of the personages with an uncanny and often
unnerving accuracy. Watch as she dawns a shawl (one of the lone props in
this minimalist production by Set Designer Takeshi Kata) and slumps into an
old wooden chair as the 72 year old retiree Louisa Hemphill, whose
poignant words paint vivid verbal image of what it was like to grow up in
segregationist Ferguson in the 1950s.

We then hear from Rusty, a retired white Ferguson career policeman who
defends the right of police to use force when there's the slightest doubt,
to Hassan, a 17 year old street kid who dares the white establishment to
point a gun at him and fire. Next, there's Connie, a well-intentioned young
white teacher at an all-black school who finds solace in a glass of Chardonnay in the areas wine bar.

Then comes Dougray, a young white self-made man who is perhaps a
symbol of those upwardly mobile young whites who are gentrifying black
neighborhoods around the country.
Orlandersmith uses words like a sculpture etching indelible images into a
piece of stone. She moves seamlessly from character to character, not
giving audience so much as a psychological breath. The cumulative effect is a
psychological tsunami that leaves one emotionally drenched, yet wanting
more. We're drawn to Orlandersmith's characters like moths to a flame, only
the flame is the smoldering embers of a racial Armageddon, both ignited and
sanctified by the blood of Michael Brown. Until The Flood is a haunting
piece of theatre with words that reverberate far beyond the parameters of
the Owen stage. This play is well worth the ticket.