Troy Bowling Teams score 5th, 8th at state competition
5/2/2018, 2:06 p.m.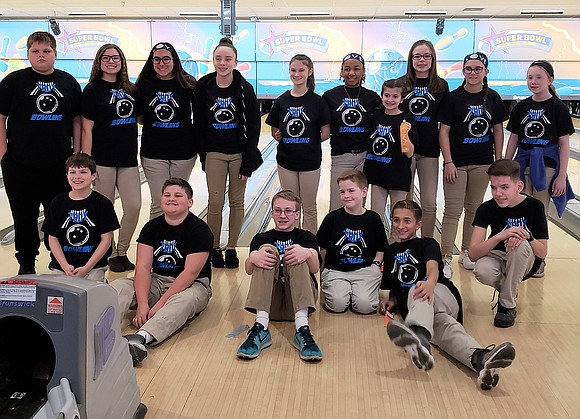 The Troy Middle School Boys Bowling Team placed 5th at the recent IESA State Bowling Tournament, and the William B. Orenic Intermediate School Girls Bowling Team placed 8th. Both schools are part of the Troy Community School District 30-C.
On the TMS Boys Bowling Team were Anthony Lizzio, who averaged 193; Victor Antomez, who averaged 168; Nathan Schram, who averaged 166; Cayden Burger, who averaged 165; and alternate Shane Wagner.
On the WBO Girls Bowling Team were Alyssa VanMeter, who averaged 153; Gracie French, who averaged 148, Savannah Voitik, who averaged 166, Ella Steinke, who averaged 131.
The TMS Girls Bowling Team finished 15th at state and included Malaya Chavez, who averaged 181; Madison Millsaps, who averaged 121; Torrance Hudson, who averaged 118; and Katia Frederick, who averaged 103.
Troy individual bowlers who ranked in the top at state were Carson Trax, who averaged 161; Thomas Fellows, who averaged 136; and Tyler MacDonald, who averaged 127.
"I am very proud of all the bowlers this season," Coach Julie Brandolino said. "Not only did they work well together as a team, but also as a school. The older students on the TMS teams were great leaders and positive role models for the younger bowlers on the WBO teams."
Brandolino also thanked Coaches Larry Warwick and Reggie Lee for their guidance and wisdom throughout the season, as well as the school board, Jeff Bailey of Joliet town and Country Lanes, Troy administrators and the students' families.
"These bowlers created new friendships, new leadership roles and new memories that will last a lifetime," Brandolino said.