2019 Toyota Corolla Hatchback
By Frank S. Washington | 5/8/2018, 1:06 p.m.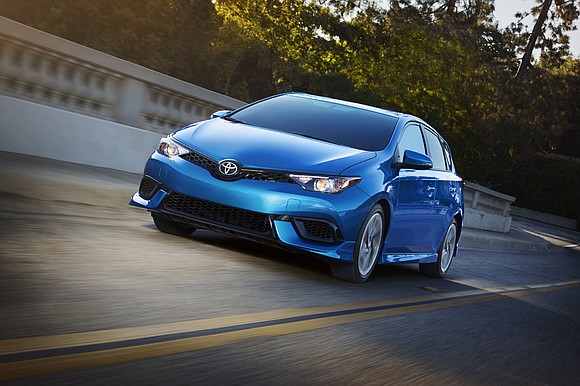 Hatchback is no longer a dirty word in the auto industry. A number of automakers have developed hot hatchbacks that are doing well. Now Toyota has joined the group. We came here to test drive the new 2019 Toyota Corolla Hatchback.
It had a 2.0-liter four cylinder engine that was smaller but more powerful than the 1.8-liter four-cylinder that it replaced on the old Corolla. The new four-cylinder made 168 horsepower and 181 pound-feet of torque.
Two transmissions will be available when the car goes on sale this summer. There will be a CVT with an actual first gear and a six-speed manual transmission. Toyota engineers were still tweaking the powertrains so EPA fuel efficiency ratings were not unavailable at the time of the test drive.
The new Corolla uses the company's Toyota New Global Architecture or TNGA. The Corolla had wider front and rear tracks and the wheelbase was longer. The car was one-inch lower; it was 1.2 inches wider and 1.5-inches longer. That may have helped with rear seat space but not by much. The Corolla is a subcompact and they don't have a lot of space in the rear seats and so it was with this car. But that's the worst thing I could say about the 2019 Toyota Corolla Hatch.
It was a great looking car. Its hood was two inches lower and that provided excellent forward visibility. The passenger cabin had an airy feel, a lot of light got in the cabin and the Corolla certainly did not feel like a small car.
The new frontal styling with a rounded nose and trapezoidal-shaped under grille was a further evolution of Toyota's Under Priority Catamaran and Keen Look design philosophies, both of which emphasize the Corolla Hatchback's increased width.
Slim, J-shaped Bi-Beam LED headlamps wrapped deep into the front fenders and accented the front. The front overhang had been cut by 0.8 inches; at the rear, it was 0.8 inches longer. Character lines linked both ends. This was a sharp looking hatchback. And it had sharp wheels too boot; they ranged in size from 16-inches to 18-inches.
The hatch was made from TSOP (Toyota Super Olefin Polymer) and ABS (Acrylonitrile Butadiene Styrene). It was lightweight and fewer pounds will undoubtedly translate into better fuel efficiency.
The tailgate had a steeper angle, 14 degrees forward, for a sportier look. The rear all-LED tail lamps featured a diffusing inner lens designed to highlight the hatchback's stout stance. And the rear bumper styling echoed the frontal Under Priority Catamaran design with its thin lower lip and chrome diffuser.
There will be two trim lines; the SE and XSE. Both will have LED headlamps and taillights, chrome rear diffuser, and alloy wheels. The XSE gets 18-inch wheels, LED fog lights, chrome front grille surround, and an Adaptive Front Lighting System, available only on the XSE CVT.
"Sensuous Minimalism" was how Toyota described the 2019 Corolla's interior. That seemed like a stretch to me but the inside of our test car was clean and efficient. The control buttons framed the touch infotainment screen. The seats were comfortable and they were supportive.