College bound Joliet area students $1,000 scholarships
5/10/2018, 8:37 a.m.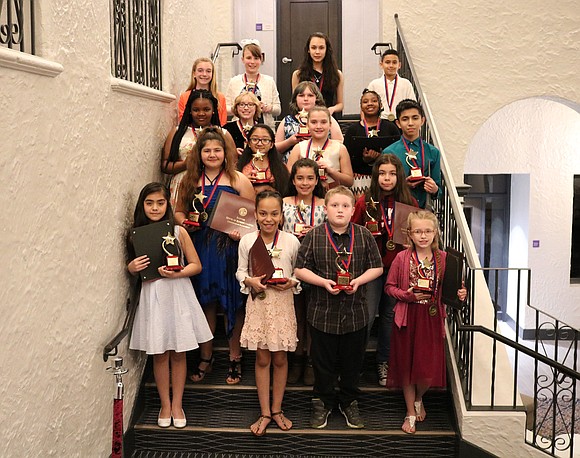 The Joliet Region Chamber of Commerce awarded 43 students, including 19 Joliet Public Schools District 86 students, from Joliet area schools with $1,000 college scholarships at the 5th Annual Hawk Joliet Education Scholarship Banquet. Students in grades 4-8 had to maintain a grade point average of 3.75 or above on a 4.0 scale and demonstrate service to their school or community to be considered for the award. The scholarships were created to encourage and motivate students at an early age to attend college.


This year's District 86 winners were: T.E. Culbertson Elementary: Lorelei Widlacki; M.J. Cunningham Elementary: Vianney Moreno; Eisenhower Academy: Esmé Bryson; Farragut Elementary: NyAilah Yarbrough; Forest Park Individual Education (I.E.) School: Renee Bezares; Thomas Jefferson Elementary: Nayara Rodriguez; Edna Keith Elementary: Yeimy Sanchez; A.O. Marshall Elementary: Fidel Nino, Jr.; Pershing Elementary: Grace Hall; Sator Sanchez Elementary: Miley Aguirre; Carl Sandburg Elementary: Breanna Moreno; Isaac Singleton Elementary: Nevaeh McNealey; Taft Elementary: Jessica Etheridge; Lynne Thigpen Elementary: Nolan Lowry; Woodland Elementary: Saniya Sherrod; Dirksen Junior High: Carlos Manzo; Gompers Junior High: Viviana Soria; Hufford Junior High & I.E. Program: Jalah McCullum; and Washington Junior High & Academy: Madison Schlismann.