Will County now home to 18 micro-pantries
5/15/2018, 7:54 p.m.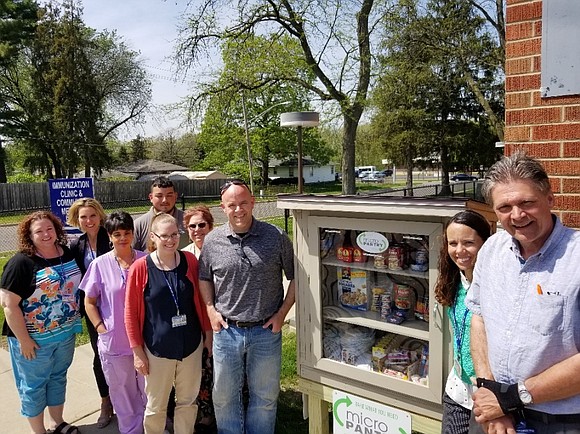 There are now 18 micro pantries, most of them in the Will County or southwest suburban region. The Will County Health Department at 501 Ella Avenue in Joliet (parking lot is off Neal Avenue) is the home of the latest micro pantry, designed to allow anonymous food pick-up for those in need, and a drop-off point for those who wish to help.
Any resident is welcome to stop by the approximately four-by-three feet (two feet deep) wooden box, with a protective door and three shelves. They will find non-perishable foods, and other common necessities such as diapers for babies. The sign on both the front and side says, "Take what you need, leave what you can."
This whole initiative began back in December of 2016, behind the leadership of Jeff Eberhard from E-Z Auto in Joliet.
"We had been involved with assembling and passing out 'homeless backpacks' full of food for quite a while," Eberhard recalled but said that the backpacks only filled part of the need.
So the micro pantries were born, and just recently a non-for-profit group Eberhard organized to expand them even further, The Guardian Group, was officially approved.
"At every location we've placed a micro pantry residents have taken charge to adopt it as their own and help keep it stocked," he said, noting that a pantry at at Rockdale Elementary School has been overseen by The Rockdale Lions Club.
For Cindy Jackson, a Will County Health Department Manager who is heavily involved with the MAPP (Mobilizing for Action Through Planning and Partnerships) Collaborative's Food Access workgroup, which includes many local partner organizations, the Health Department's new micro pantry is part of a much larger mission.
Following the closure of Certified Warehouse Foods in Joliet, Jackson said that the pantries are even more crucial for communities with a high rate of food insecurity.
Within two hours of the Health Department micro pantry's opening, much of food was already claimed.
Other micro pantries in the area can be found at locations such as D'arcy Hyundai on West Jefferson, the Big Brothers -Big Sisters building on Taylor Street in Joliet, and Sage Plaza on MacGregor in Lockport. For a full list, go to the Micro Pantries Facebook page.
To help or make a donation call Jeff Eberhard at E-Z Auto Sales at 815-744-1821.