Ministry hosted 1st Community Support Celebration and Award Ceremony
5/16/2018, 10:16 a.m.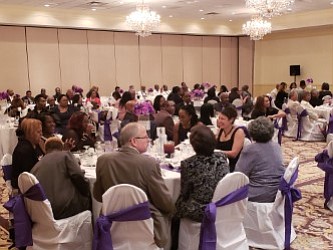 Igniting The Fire Prayer Ministry hosted its first Annual Community Support Banquet on May 5th at the Clarion Hotel in Joliet.
The evening included a celebration and recognition of community leaders who have impacted the community over the years.
This year's honorees included:
• Will County Board member Rev. Herbert Brooks
• Joliet City Council member Terry Morris
• Joliet Mayor Robert O'DeKirk
• Prayer Tower Pastor Warren Dorris
• Apostle Deddrick Perry, Sr. of Glory International Harvest Church
• Apostle Jonas Jones of New Covenant Worship Center in Joliet
• Grady and Mary Dickson of JCTV
• EKKLESIA GROUP-Music/Entertainment,
• WILL TERRY AND THE SOUNDS OF JOY-Music/Entertainment
• Elder John King, president of Joliet Crusade
Igniting the Fire Prayer will hold its annual Guarding City, State and National Gates Prayer Gathering on Saturday, May 26, 2018 at the Will County Courthouse, 14 W. Jefferson St, Joliet starting at noon.