Plainfield Park District invites visitors to 'Share your Smile' this summer
5/16/2018, 10:24 a.m.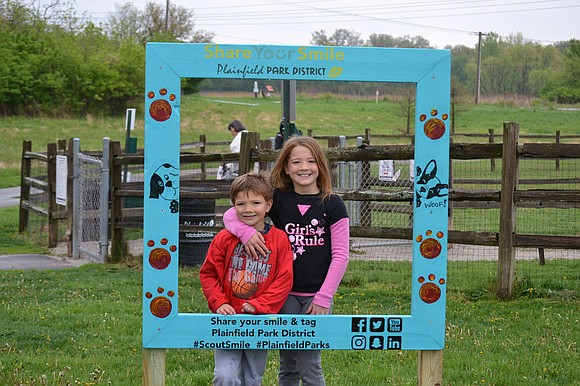 Plainfield Park District's ambassador, Scout, is getting ready for a summer of fun that he hopes will bring a smile to everyone.
For "Scout's Summer of Smiles," Plainfield Park District visitors can share their summertime adventures with us on social media at one of 4 new, outdoor picture frame/selfie-stations.
Snap your photo and then Share Your Smile with us beginning May 15 on Facebook, Twitter and Instagram using the hash tags #PlainfieldParks and #ScoutSmile.
Picture frame locations include:
• Boy Scout Park, 23729 W. Ottawa St.
• Van Horn Woods West, 17201 S. Lily Cache Rd.
• Eaton Preserve, 23601 W. 135th St.
• Clow Stephens Park, 16650 S. Lily Cache Rd.
Also: Don't forget to grab a copy of Scout's Building Summer Fun Guidebook that can be found at all Park District guest services (front desks) locations beginning May 15 or download it at plfdparks.org.
With the guidebook in hand you can explore the parks and learn more about the new net-zero recreation center—PARC—and how you can help save energy this summer.
Bring your completed guide to the Rec/Admin Center, 23729 W. Ottawa St., to win a prize.
About the Plainfield Park District
Founded in 1966, The Plainfield Park District is the 9th largest park district in the State of Illinois, serving over 105,000 residents and covering just over 43 square miles. The District serves both Will and Kendall Counties and includes park space and facilities in 7 communities including Plainfield and Wheatland Townships, Bolingbrook, Crest Hill, Joliet, Plainfield, and Romeoville. The District is an Illinois Distinguished Accredited Agency for excellence in delivering parks and recreation services.
Stay up to date with the latest news—like and follow us on Facebook, Twitter, Instagram, LinkedIn and Snapchat.