Tiff district for Plainfield?
Madhu Mayer, news@thetimesweekly.com | 5/25/2018, 11:07 a.m.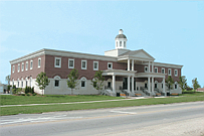 The Village of Plainfield is moving forward with a study to determine whether a tax increment financing (TIF) district is warranted on Route 30 from Renwick Road to I-55.
Jake Melrose, economic development manager, on Monday said the Plainfield Village Board back in 2015 authorized the firm S.B. Friedman to conduct a preliminary eligibility study to determine whether the Route 30 corridor from Renwick to I-55 would qualify as a TIF district project area. From this study, he said, there were several things the village and some property owners were required to do before the study could further proceed.
TIF is a public financing method that is used as a subsidy for redevelopment, infrastructure, and other community-improvement projects.
One of the items that warranted attention included the Drum Farm annexation at the southwest corner of Spangler Road and U.S 30, according to Melrose. However, that property has since gone into foreclosure.
"The bank that received the property again initiated the steps to move the annexation forward," he said. "However, in 2016, this bank was purchased by another bank which then required a new review of the documents."
Another obstacle was the plat of subdivision for the Boulevard property near I-55. While that plat of subdivision needed to be finalized before the TIF study could move forward, Melrose said the reconstruction project on Route 30 created a difficulty in the platting process and a lengthy review by Illinois Department of Transportation for the new changes.
Since all these issues have since been resolved, Melrose said the ordinance the board adopted Monday is mandatory by the Tax Increment Allocation Redevelopment Act to begin the TIF feasibility study and report process.
Besides addressing the possible Route 30 TIF corridor, the Plainfield Village Board Monday also approved spending up to $14,500 with S.B. Friedman to possibly extend the term of the downtown TIF district.
In 1998, the Plainfield Village Board adopted its first and only TIF district in the downtown area along Lockport Street from the west side of Route 59 to the east side of Van Dyke Road. Since that time, the village has used the TIF district for the rehabilitation of commercial buildings, completed infrastructure improvements and the maintenance and upkeep of the historic downtown area, said Melrose.
The downtown TIF district is expected to expire in 2021. But the village is considering extending the district by another 12 years. To do that, the village must review existing conditions and update future land use map to account for recent and proposed land use changes, prepare a TIF district budget for the 12-year extension and present the required public approval process meetings.
Village Administrator Brian Murphy said the maximum extension the State of Illinois allows for a TIF district is 12 years.