Jazz, Wine and Lobster at Rivers Wine Fest
5/30/2018, noon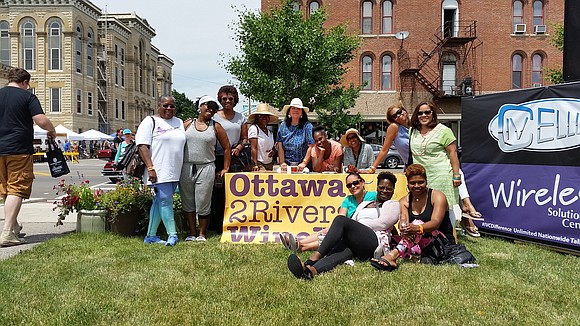 Thetimesweekly.com
The Jordan Block in downtown Ottawa, IL will become home to 17 Illinois wineries and a celebration of Chicago Jazz at the 2018 Ottawa 2 Rivers Wine Fest. Patrons will be able to sample the best local wine and eat fresh, grilled lobster while enjoying music from Frank Lamphere, the Stephen Hawk Orchestra, Christy Bennett's Fumee Gypsy Project and other great jazz bands.
The wine fest is currently in its 8th year, seeing great interest and attendance in the local area, the Chicagoland market, as well as from nearby states as well. "A great time in a beautiful setting," stated Ottawa Mayor Robert Eschbach, "with top-notch wine, fresh food and first-class music – we consistently hear these compliments again and again and again. And, those faces that do make the trip to Ottawa that I get to talk to … I'll recognize them year after."
The festival starts off on Friday, June 1st from 5 to 10pm. The band Martini Lunch takes the stage at 5:00 pm, followed by headliner Frank Lamphere at 8:00 pm.
On Saturday, June 2nd, the festival is open from 12pm to 10pm. The music includes Joe Policastro Trio at 3pm, Petra van Nuis Quintet (featuring guitarist Andy Brown & saxophonist Eric Schneider) at 5:30pm, and headliner Stephen Hawk Orchestra at 8:00pm.
The festival concludes on Sunday, June 3rd, with hours between 12:00pm and 5:00pm. Sarah Marie Young takes the stage at 12:00pm, and Christy Bennett's Fumee' Gypsy Project concluding the festival at 3:00pm.
So far 17 Illinois' wineries are scheduled to sample at the Ottawa 2 Rivers Wine Festival. These wineries include:
· August Hill Winery
· Berryville Vineyards
· Blue Sky Vineyards
· Creekside Vineyards & Winery
· Fox Creek Vineyards
· Fox Valley Winery
· Hopewell Winery
· Kickapoo Creek Winery
· Kite Hill Vineyards
· Lavendar Crest Winery & Banquet Center
· Massbach Ridge Winery
· Prairie State Winery
· Spirit Knob Winery
· Sunset Lake Vineyards
· Vahling Vineyards
· West of Wise Winery
· Wild Blossom Meadery and Winery
Ottawa's Tangled Roots Brewing Company will be on site serving craft beer.
Those wishing to attend can pre-purchase their tasting tickets and lobster redemption ticket at Ottawa2RiversWineFest.com. Online purchases are highly encouraged to reduce waiting times and to guarantee a lobster.
Eight wine & beer tasting tickets, purchased online in advance, are $20 for 8 tickets. These tickets are good for all three days of the festival and include a commemorative wine glass. On site, 6 tasting tickets can be purchased for $25. Additional beer and wine tasting tickets can be purchase at the festival tent.
The Ottawa Noon Rotary imports fresh lobster from Maine and grills them on site. The fresh lobster is served with corn on the cob, pumpernickel bread and real butter.
A lobster dinner, purchased online in advance, costs $30 per dinner. Online ticket sales will end a few days prior to the start of the festival. A very limited number of tickets are "at the door" lobster dinners will be available for $35 per dinner.
Ottawa's The Cheese Shop will be serving food as well, including prime rib sandwiches, smoked pulled pork sandwiches, mini pork tenderloins, breaded chicken breast sandwiches, fruited chicken salad sandwiches, and more. These food items can be purchased directly at the festival.
For more information on the festival and to purchase tickets, visit Ottawa2RiversWineFest.com orFacebook.com/Ottawa-2-Rivers-Wine-Fest-114565435287416. Or more information by calling the Ottawa Visitors Center at (815) 434-2737.