Wine of the Week: Navarra wines, Spain's best kept secret arrives for summer
Dwight Casimere – wine@thetimesweekly.com | 5/31/2018, noon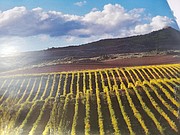 Bodegas Ochoa is an exceptional winery from the northernmost village of Olite in the Ribera Alta. Its family history dates back to 1845. Following a long tradition of wine production from the field to the bottle and, ultimately, marketing and selling. the winery remains in the hands of the original family. The married couple of Javier Ochoa and Marivi Aleman are the winery's sole proprietors and their daughters Adriana and Beatriz serve as the winemaker and marketing and sales director respectively. Everything is done on premises, from the harvesting to bottling and sales and marketing strategies. The wholistic approach is evident in the quality of the wines. Ochoa Grand Riserva 2010 can be had for under $20 and is probably one of the great wine buys of the year. Exceptionally sophisticated and complex, with ripe jammy ripe red fruit flavors and hints of baking spice and smoky cigar, this is the wine to drink with your favorite meal of grilled aged Porterhouse or Rib Eye steak and a side of garlic mashed potatoes and grilled asparagus.
Although the winery was founded in 1953, the history of Senorio De Sarria of Navarra goes back to the 13th century. Located in the heart of the pilgrim's route to Santiago in Puente la Reina, its sun drenched slopes offer the perfect climate and soil conditions for a full range of top-quality wines. Each of its grape varieties is able to find its perfect place in its 247 acres of vineyards. Light, humidity and temperature conditions are carefully monitored to allow the wines to express their uniqueness of terroir to their fullest. Winemaker and Technical Director Milagros Rodriguez has honed a philosophy of harmony. "For me, a good wine is a wine that is able to express by itself. It is able to speak about the soil, the region and the climate from which it comes. This is a wine where all of the grape varieties combine to form an harmonious whole."
Bodega De Sarria wines Marketing Director Christian Bungard poured six wines from the current portfolio, Senorio de Sarria Chardonnay 2017, Senorio de Serra No.5 Rose 2017, Crianza 2014 Red, Vinedo Sotes 2014 Red, Riserva Especial 2012 Red and Riserva 2012 Red. The wines are all in the $8 to $10 range and represent terrific value. The Sardinia No. 5 Rosada, for example, is 100% Garnacha (Grenache) and is a crisp, dry rose brimming with bright, jammy fruit flavors; ripe red wild strawberries, raspberries, pomegranate and a hint of tarragon. Great with grilled salmon or an herb stuffed Branzino, a delicious Mediterranean fish also known as "Greek Sea Bass" roasted whole, slathered with lemon juice and olive oil and thrown on the grill. Save some Bodega De Sarria wine to sip with some ripe Manchego cheese by the fire pit as you watch the sun set in blazing tones that will have you thinking that you're gazing at the Pyrenees.