2019 Hyundai Veloster N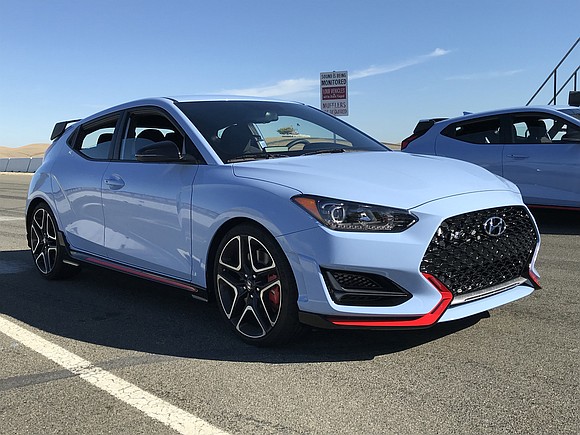 We came here to test drive the next step in Hyundai's future, the 2019 Veloster N. As one executive said, "it is a racing car that we're trying to sell to the public."
What Hyundai is also doing is expanding and redefining its brand. The N logo is for the Korean automaker's high performance models. Right now there are three: one is sold in Europe, one is sold in South Korea and the U.S. edition will be on sale by the end of the year.
And let's be clear, the N brand is more than a body kit. Hyundai didn't create new parts but they took what was on their shelves and re-engineered the heck out of it.
What they've got is a high performance Veloster that has a 2.0-liter turbocharged four-cylinder engine that makes 250 horsepower and 260 pound-feet of torque. Get this; when equipped with the optional performance package, engine output is upped to 275 horsepower with the same 260 pound-feet of torque from 1,450 thru 4,700 rpm.
It was mated to a close-ratio, short-throw six-speed manual transmission with downshift rev-matching capability. The transmission used carbon-coated synchro rings and gear material reinforcement for smoother operation and lower overall shift force coupled with a positive engagement feel.
A dual-clutch automatic transmission is in development but it is two years away from being introduced. However, I found the six-speed manual more than worthy of the powerhouse engine of the 2019 Veloster N. Gearshifts were precise, it was not clunky like you find on a lot of short throw manuals and down shifts were smooth.
The turbo system intercooler was isolated from the condenser and radiator for more efficient cooling of the intake charge. The setup also benefited from a two-stage induction system for maximum output at all rpm ranges. The engine compression ratio is 9.5:1, which was high, Hyundai said, for a turbocharged engine.
There was a multi-mode, high-flow active sport exhaust system with a variable exhaust actuator. In N mode, this system yielded an over-run exhaust crackle during spirited-driving upshifts and rev-matched downshifts. This exhaust system was further augmented with an electronic sound generator that enhanced the natural powertrain sound. Fuel economy for the Veloster N is an estimated 22 mpg in the city, 28 mpg on the highway and 25 mpg combined.
The Veloster N had an exclusive front fascia with dedicated air ducts for better brake cooling. There were LED headlights, N-design rocker side sills and available 19-inch alloy wheels with a dual spoke design; 18-inch wheels are standard.
The 19-inch wheels which we had were shod with 235/35R19 Pirelli P-Zero performance tires.
The rear of the Veloster N had a large spoiler, a rear fascia design with integrated diffuser, and a performance-diameter high-flow dual exhaust. There were also LED tail lamps. The car will be available in four colors: racing red, chalk white, performance blue (exclusive to the model) and phantom black.
I think the most distinctive enhancement on the exterior of the Veloster N was a red accent stripe that encircled the bottom of the car and accentuated the lower part of the grille frame.