New procedures to purchase Joliet West Boys Basketball tickets
11/5/2018, 12:11 p.m.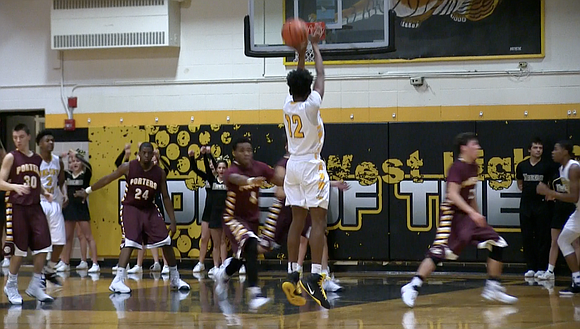 No cash payments will be accepted at the gate for certain Boys Basketball games.
Joliet West High School will require the purchase of entry tickets online or in advance for a select list of Boys Basketball games, and no cash payments will be accepted at the gate for these games. All other Boys Basketball games will not require a ticket to enter, except for the Varsity and Freshman Boys Basketball Thanksgiving tournaments. The Thanksgiving tournaments tickets may be purchased at the gate via cash or online.
Joliet West will be going cashless at the gate for the following 2018 -2019 Boys
Basketball games:
Tuesday, December 11: Joliet West Tigers vs. Naperville North Huskies
Friday, December 14: Joliet West Tigers vs. Oswego East Wolves
Thursday, December 20: Joliet West Tigers vs. Joliet Central Steelmen -
pre-sale only event. Electronic tickets will NOT be available at the gate for the game on December 20.
Tuesday, January 15: Joliet West Tigers vs. Lockport Township East Campus Porters
Thursday, January 17: Joliet West Tigers vs. Oswego Panthers
Tuesday, January 29: Joliet West Tigers vs. Hillcrest Hawks
Friday, February 1: Joliet West Tigers vs. P Plainfield East
Tuesday, February 5: Joliet West Tigers vs. Neuqua Valley
Friday, February 15: Joliet West Tigers vs. Minooka Community Indians
Electronic tickets may be purchased online at https://gofan.co/app/school/IL50184 in advance. Fans may also purchase electronic tickets at the gate using a credit or debit card. Opposing schools may purchase tickets online or through their own school athletic offices.
Tickets may be purchased with cash on the following days from 4:00 PM- 6:00 PM in the Joliet West Athletic Office in the Field House: November 9; December 6, 7, 10, 13, 17, and 19; January 10, 11, 16, 24, 25, and 30; and February 4, 12, and 13.
Ticket prices are $5 for adults and $2 for students/children, plus an additional service fee if purchased online. Senior citizens do NOT need to purchase a ticket. JTHS season pass holders will NOT need a ticket, although all names associated with the pass must appear on the pass list.
Any Joliet West student that does not have an activity sticker must purchase a ticket in the bookstore or electronically. Joliet West students without an activity sticker can purchase their ticket in the bookstore beginning on November 9 during normal bookstore hours.
Electronic tickets will be delivered by e-mail after purchase and may be redeemed on the consumer's smartphone at the entry gate. Additional ticket instructions are available at https://www.huddletickets.com All spectators must bring a state ID to enter all games. Joliet West students may use their student ID with an activity sticker for entry.