Cheddar and Herb Stuffing
11/12/2018, 12:08 p.m.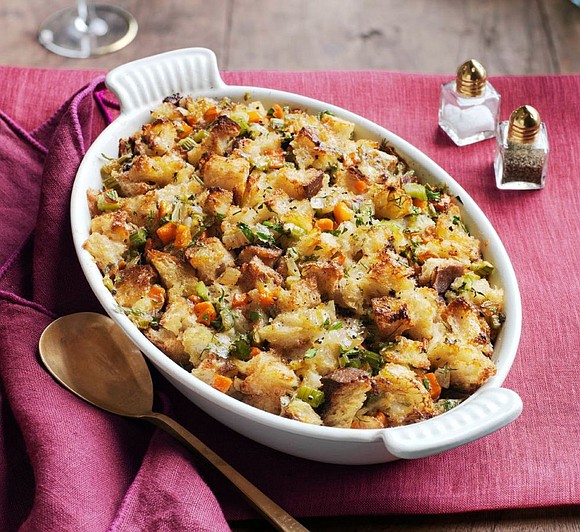 YIELDS: 8 / TOTAL TIME:1: 55 mins
INGREDIENTS
3 tbsp. olive oil, plus more for the dish and foil
1 small loaf country bread (about 1 lb.), cut into 1/2-inch pieces
2 large onions, chopped
kosher salt
black pepper
4 stalks celery, cut into 1/4-in. pieces
2 large carrots (about 10-oz. total), peeled and cut into 1/4-in. pieces
1 c. fresh flat-leaf parsley, roughly chopped
1/4 c. fresh dill, roughly chopped
3 c. low-sodium chicken broth
3 large eggs, beaten
6 oz. extra-sharp Cheddar, coarsely grated
DIRECTIONS
Heat oven to 375 degrees F. Oil a 9- by 13-inch baking dish. Place the bread on a rimmed baking sheet and bake until dry and beginning to turn golden brown, 20 to 25 minutes, stirring halfway through cooking.
Meanwhile, heat 3 tablespoon oil in a large skillet over medium heat. Add the onions, season with 3/4 teaspoon salt and 1/2 teaspoon pepper and cook, covered, stirring occasionally for 12 minutes.
Add the celery and carrots and cook uncovered, stirring occasionally, until the vegetables are tender, 12 to 15 minutes more. Stir in the parsley and cook for 1 minute. Remove from heat and stir in the dill.
Pour the broth over the toasted bread and toss until the broth is absorbed. Fold in the eggs. Add the vegetable mixture and toss to combine, then fold in the cheese. Transfer the mixture to the prepared baking dish and refrigerate for up to 1 day.
Bring the stuffing to room temperature, cover with nonstick or oiled foil and bake for 10 minutes. Remove the foil and continue to bake until golden brown, 25 to 30 minutes more.