Goodman Theatre A Christmas Carol now thru Dec. 30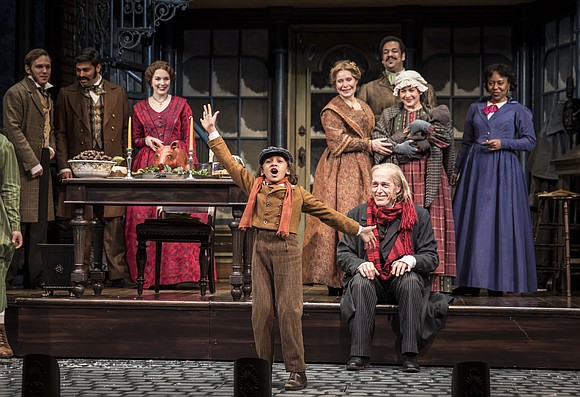 If the recent snow blizzard ended your Thanksgiving Holiday Weekend with a thud, the easy antidote to the winter blahs for the entire family is a trip to Chicago's Goodman Theatre to see A Christmas Carol in the Albert Theatre now through Dec. 30. A Chicago tradition, the production is now returning for the 41st year with veteran actor Larry Yando as the beloved curmudgeon Ebenezer Scrooge for the 11th time.
Speaking of time, timing is everything in this year's edition of 'Carol.' Witness Yando's impeccable delivery of his sharp retorts with laser-like accuracy as he unleashes verbal barbs at anyone within range. Each 'Bah Humbug!" sounds as fresh as the very first time it was uttered more than 41 years ago.
Once gain, Goodman is to be commended for its trailblazing policy of color-blind casting, which is utilized in this production more than space will permit. Most notably, Penelope Walker as a ravishing and energetic Mrs. Fezziwig and Lily Mojekwu as a feisty Mrs. Cratchit. Eleven year old Paris Strickland, a childhood cancer survivor, reprises her role as a heart melting Tiny Tim.
Jasmine Bracey, in her Goodman debut as the Ghost of Christmas Present gives a scene-stealing performance that is one of the highlights of the show.
The onstage Musicians, Past, Present and Future, led by Musical Director Malcolm Ruhl on the Concertina/Accordion and Guitar, act as a sort of Greek chorus, moving the action along with appropriate tuneful commentary.
Kudos to veteran Goodman Director Henry Wishcamper and his set, costume and lighting design team for bringing forth a production that progresses with seamless precision, finding its target deep within our heartstrings. As Tiny Tim said in childish wisdom, "God Bless Us, Everyone!." The Goodman will also host several Accessibility and Special Events of A Christmas Carol. A Touch Tour and Audio Described Performance will be held Dec. 8 at 12:30pm. An ASL Interpreted Performance will take place Dec. 2 at 2pm. An Open Captioned Performance will be held Dec. 9 at 2pm. A Spanish Captioned Performance will be held Dec. 28 at 8pm and a Sensory Friendly Performance will be held Dec. 29 at 2pm. A Christmas Carol-Now thru Dec. 30 in the Albert. For tickets and showtimes, visit Goodmantheatre.org