Joliet Central hosts Preview Days
11/28/2018, 9:34 p.m.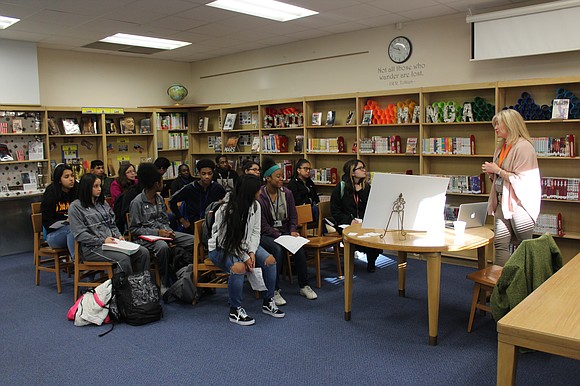 Joliet Central High School hosts Human Services and Arts & Communication Preview Days From November 7th to the 14th, Joliet Central High School's Academy Coordinator Mike Lutz and librarian David Jones held Academy Preview Days for Joliet Central students featuring guest speakers & academy elective teachers in Human Services Careers and Arts & Communication Careers.
On the first Academy Preview Day, teachers brought down their class to the library media center, approximately 500 students were able to ask one-on-one questions with the person of their choice related to the future career the student is interested in exploring.
On the second Academy Preview Day, teachers who sponsor clubs or teach electives within the Academy set up tables to talk to students about the benefits of their clubs or electives. Approximately 250 students visited during their advisories.
JTHS Career Academies increase student achievement by organizing students into five career focused small learning communities that offer a personalized learning environment within a large school setting. In the JTHS Career Academies, students receive an individualized education relevant to their career interests. Teams of teachers work together to prepare interdisciplinary lessons that relate to each academy's pathway. Students are provided with a rigorous and relevant curriculum that integrates course content and technology skills in alignment to the Common Core State Standards, College and Career Readiness Standards.