JJC president delivers third annual State of the College
10/1/2018, 10:29 p.m.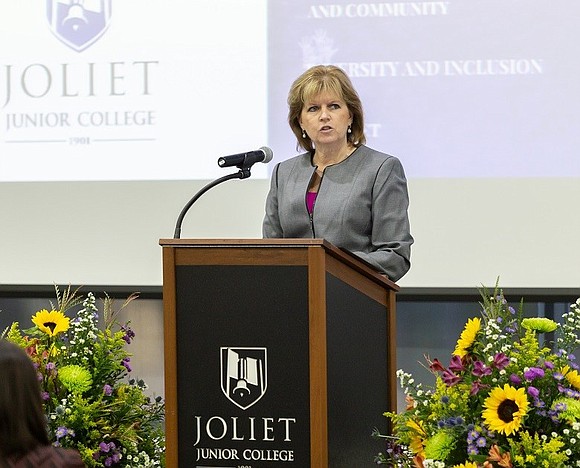 Joliet Junior College President Dr. Judy Mitchell presented her third annual State of the College address on Friday, Sept. 28. Community members, stakeholders and local legislators attended to learn about institutional initiatives and progress the college has made over the past year.
"We haven't led over 100 years of educational excellence in our community without the need to drive transformational change internally through academics, student services, technology, and more," Mitchell said. "Throughout the past year, I've challenged our college to think beyond convention and embrace the opportunity inherent in this swiftly changing time."
She noted JJC's adoption of zSpace technology in the classrooms, new undergraduate research and STEM education opportunities. She also shared plans for the creation of two new high-demand programs; diesel technology and medical assisting.
"Creating new academic programs to adapt to evolving labor markets and community needs is not new to JJC, or to the community college system. It is foundational to what we do," said Mitchell. "We work with advisory boards, we assess the needs of local businesses, and we develop programs to respond to the market."
New programming is paramount to maintain relevancy, Mitchell added, as is the need to modify existing programming as societal needs change.
Additional highlights Dr. Mitchell covered included:
• Opening of the new Workforce Education Department earlier this year, a combination of JJC's adult education and workforce development. The change creates clearer pathways to foundational education, high school completion, workforce readiness and gainful employment.
• Employee giving at JJC increased 20 percent over the previous year, with 312 employees giving a total of $115,200 to scholarships and programs at the college.
• The JJC Foundation now has $23 million in assets and $12 million in endowments, the largest of all Illinois community colleges. In FY18, 650 students received $677,000 in scholarships.
• This year's inaugural Night of Stars awards ceremony honored five individuals for their service to the community and college. The second annual event takes place next April.
• Strengthened outreach to undocumented students, aligning with JJC's mission to serve and educate all members of our community. In January, DACA student Ana Campa Castillo was invited to the State of the Union address in Washington, D.C. as a guest of Congressman Bill Foster.
• Created the College-Community Partnership Initiative. It serves to strengthen partnerships and outreach within the district, bring awareness of the academic programs and comprehensive support services offered at JJC, and addresses the educational and workforce needs of the diverse community the college serves.
• Continuing commitment to diversity and inclusion practices. The president has restructured a position in her office that will devote 50 percent of duties and activities to the successful implementation of a new diversity and inclusion plan.
Dr. Mitchell closed by stating that while it is important to embrace JJC's history as the country's first public community college, innovation and change are part of JJC's institutional DNA.
"We are leaning in to a new era of education, and a new day at Joliet Junior College."