BAKED PUMPKIN MAC AND CHEESE WITH BACON
10/2/2018, noon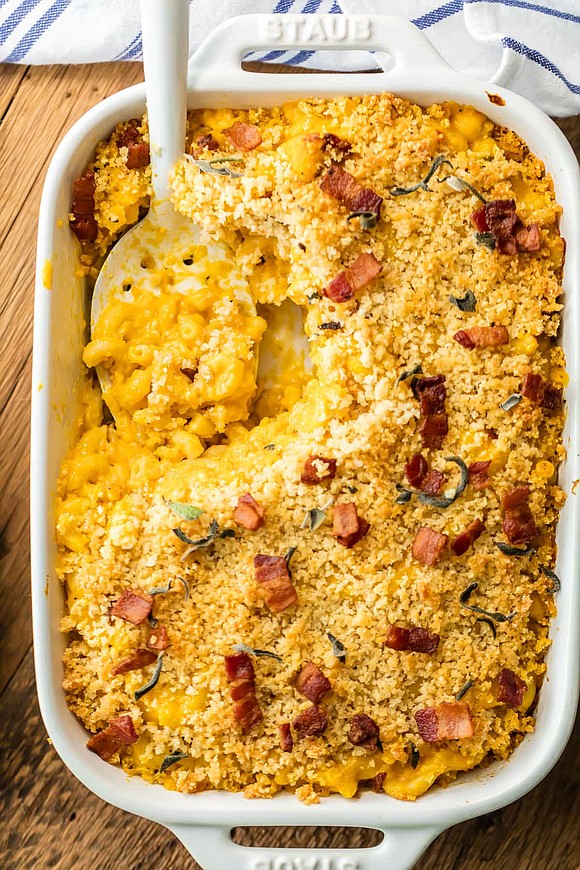 SERVINGS: 6 / TOTAL TIME
40 MINS
INGREDIENTS
• 8 slices bacon
• 4 cups elbow macaroni cooked according to package instructions
• 4 tablespoons butter
• 4 tablespoons all purpose flour
• 1 tablespoon salt
• 1 tablespoon pepper
• 1 teaspoon garlic powder
• 1 1/2 cups 2% Milk
• 1 1/2 cups heavy cream
• 2 cups shredded fontina cheese
• 1 15 ounce can pumpkin
• 2 tablespoons fresh sage chopped. (plus more for garnish)
• 1 cup panko bread crumbs
• 1 cup grated parmesan cheese
• 1 1/2 tablespoons olive oil
Directions
1 Preheat oven to 400F. Place bacon on a foil lined baking sheet and bake for 15-20 minutes or until very crispy. Allow to drain on a paper towel and then crumble into small pieces. Set aside.
2 When done with the bacon, switch the oven to 350F.
3 In a medium/large saucepan heat the butter over medium heat. Once fully melted, add the flour, salt, pepper, and garlic powder and stir (constantly) to combine.
4 Pour in the milk and cream slowly, whisking constantly while you add. Allow to thicken, continuing to stir, until bubbly.
5 Add in the cheese one cup at a time, stirring to melt before adding the second cup. Stir in the pumpkin and sage.
6 Remove from the heat and pour over the cooked pasta, stirring to combine. Stir in the bacon crumbles, reserving some for garnish if desired.
7 In a separate small bowl, combine panko, parmesan, and olive oil.
8 Pour the macaroni into a large baking dish, pressing down slightly with your spoon to make the top level.
9 Pour the panko mixture over the noodles, covering the entire top. Sprinkle with extra sage if desired.
10 Bake for 30 minutes, or until everything is hot and bubbly and the bread crumbs are golden and toasted.
Remove from the oven and allow to cool for 10 minutes before serving. Sprinkle with extra bacon if you're feeling sassy.