New pace service from Chicago to Lewis University
10/3/2018, 10:29 p.m.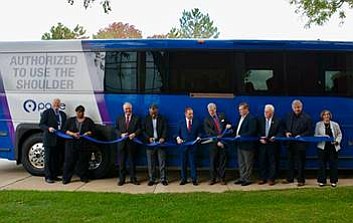 Romeoville - Officials from Pace Bus, Lewis University, Romeoville, and Will County gathered to celebrate the launch of Pace's new service, Route Lewis University - CTA Blue Line Clinton Station. Designed to accommodate Lewis University students and staff traveling from Chicago, a morning trip takes passengers from the CTA Blue Line Clinton Station to the school and a return trip brings them back in the mid-afternoon.
In February of 2018, Lewis University President Dr. David J. Livingston reached out to Pace to see if there was any way to get students and faculty from downtown Chicago to the University campus and back starting with the fall school year.
"Our 410-acre campus is only 35 miles from Chicago, but transportation can be a challenge for some students," Dr. Livingston said. "Route 754 improves access to everything Lewis University has to offer, including our high quality academic programs, impressive academic facilities and dedicated employees."
Route is an example of Pace's ongoing efforts to connect the residents of Northeastern Illinois with opportunities for employment and education. Students and teachers often have variable school schedules that can make using public transportation difficult. "This new service will make Lewis University more accessible to students who live in the city and make it easier for students on campus who want to explore the city," stated Mayor John Noak.
The route provides one morning outbound trip and one afternoon inbound trip on weekdays only between the CTA Blue Line Clinton Station and Lewis University in Romeoville. This free fare route is operated using coach buses with free WiFi. This route is part of Pace's Bus on Shoulder program and uses the highway's inside shoulder to bypass congestion on I-55. Learn more at PaceBus.com.